A Guide to the 14 Best At-Home Hair Cutting Scissors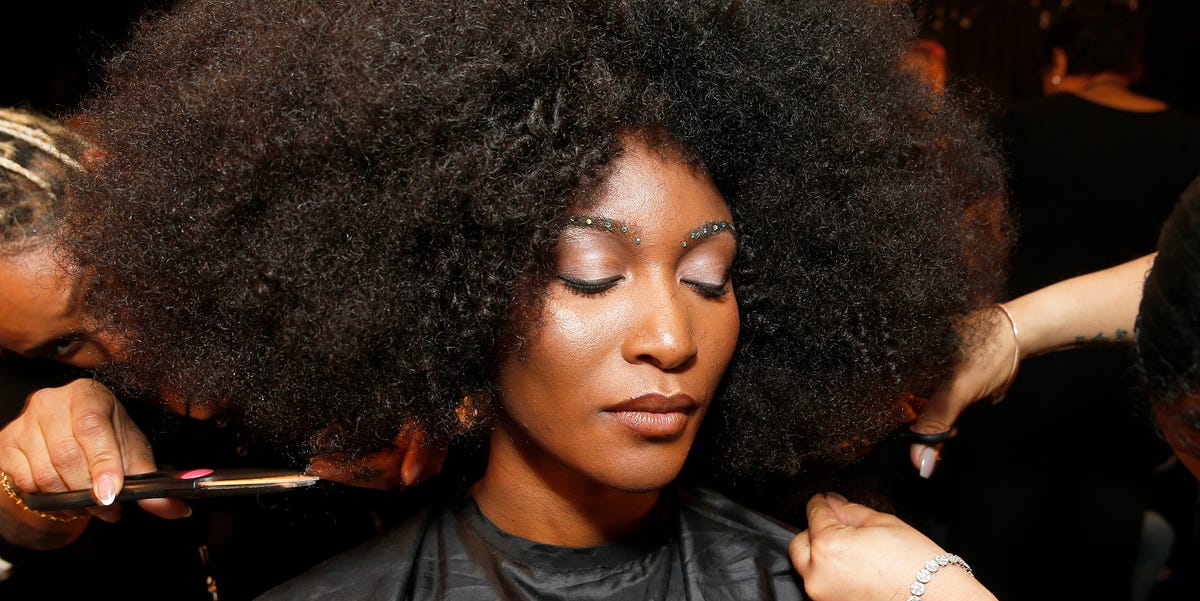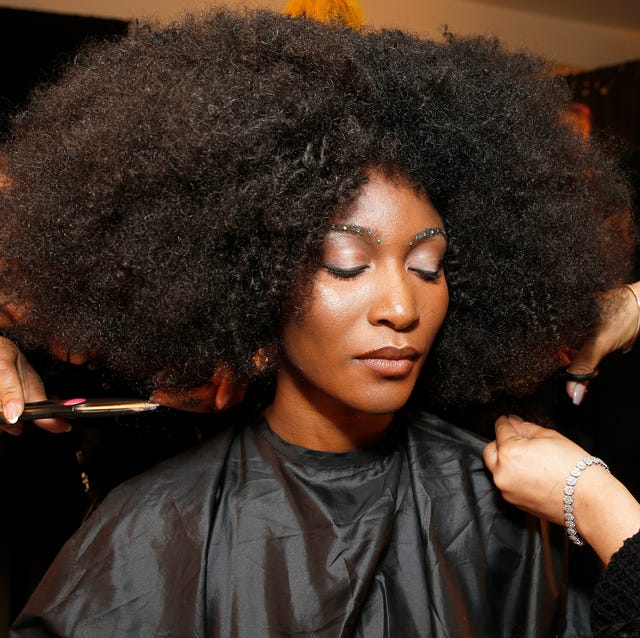 Dominik Bindl
While we recommend you see a professional for the best hair styling results, sometimes a quick touch-up is all you need. So for those who dare, this is where a pair of affordable, at-home shears comes to play.
When you're picking out a pair of shears, remember: Size does matter. New York-based hairstylist and co-founder of the salon Arisa, Sarah Leah Rona tells us, "I normally look for a certain length when looking for new pair of shears. The length of your shears should start at the corner of your wrist and end at the tip of your pointer finger, diagonally placed. Shorter shears are good for fine-tuning, like perfecting a straight line around the perimeter. Or the bangs. Longer shears can cover more ground when cutting texture into the hair. I look for a hybrid pair of shears, good for both dry cutting and wet cutting. This way, there is no need to switch between shears while going from creating shape and then dry texturizing when styled to take out weight."
Ahead, the best 14 hair shears on the market for every skill level and budget.
Advertisement – Continue Reading Below
Best Complete Kit
Hair Thinning Shears
With this kit, a mess-free trim is guaranteed. This set comes with a protective cape, a brush to dust away stray hairs, as well as a double-sided razor to give you whatever cut you desire.
Best for Safety
Cararra Marble Shears with Safety Blade Cover
Conair's shears are sharp enough to provide precision and safe enough to prevent any cuts as it sits in your drawer until your next cut.
Best Cult-Favorite Brand
Tweezerman Stainless 2000 5.5″ Styling Shears
This pair of hair scissors by beloved brand Tweezerman is a jack of all trades. Alex Brown, who counts Chrissy Teigan and Kendall Jenner as clients, says it's great for beginners because "they are a great size which makes them easy to control, and are very sharp, plus priced really well."
Best Investment
Hitachi Professional Hair Cutting Scissors
For an investment worth every penny, these scissors are as sharp as a razor (we aren't exaggerating), giving you complete, precise control of your cuts. They come in two different lengths and offer designs for right-hand dominant users and lefties. One reviewer shares, "I'm a 'recently turned barber' apprentice so I've been cutting hair for a just a little bit over a year. The shears are nothing short of phenomenal. The quality is fantastic, the cutting precision is like nothing I've used before, and it's difficult enough for me to purchase scissors that are truly left handed."
Best Budget
Hair Cutting Shears Professional 6.5″
Don't let the low price tag on these "Amazon's Choice" hair scissors fool you, the blades are sharp, so definitely proceed with a hefty dose of caution. They also feature rubber finger grips to steady and cushion your hold and an ergonomic handle which reduces overextension in your thumb and wrist.
Highly-Reviewed
Equinox Professional Hair Cutting Scissors 6.5″
With nearly 34 thousand reviews, these shears are perfect for beginners. One reviewer confirms, "The shears surpassed all my expectations. They have very comfortable grip, they are convenient to work with and extraordinary sharp! With these shears, I can cut hair ends half an inch from my fingers without the hairs slipping along the edges." Oh, and don't be concerned that they might arrive appearing wet-these scissors are treated with refined oil to prevent rusting.
Best for Beginners
Professional Hair Cutting Shears 6.5″
These shears are perfect for beginners-just sharp enough to get the job done, yet not razor sharp to where you could easily injure yourself. Not to mention, the price is really unbeatable.
Best for Wet and Dry Cuts
Fromm Explore 5.75″ Hair Shears
For wet and dry hair, these just-sharp blades are perfect for all your at home haircut needs.
Best for Salon-Like Finish
Sirabe 10 Piece Hair Cutting Set
For everything you could need to set up your hair workstation at home, this set comes with a small cleaning cloth, a pair of cutting scissors, a pair of thinning scissors, a salon cape, two hairpins and two combs in a leather zip bag.
Best for Precision
Professional Hair Cutting Shears 6″
Looking for a pair of scissors that comes to a flat point at the tip, yet still boasts a sharp blade? It doesn't get more affordable and effective than this pair of shears. One reviewer explains, "They are good enough for fine stuff like trimming bangs, and strong enough for the heavy lifting of cutting about 8″ off my head in big hacking cuts. They are obviously not salon quality, but they do the job perfectly."
Best for At-Home Touchups
Diane Home Cut Kit
This home cut kit comes with a small cape, a comb, two clips, and a pair of sharp scissors-the perfect set for quick touchups and trims.
Best Professional Set
Professional Shears 5.5″ and Blending Kit
This professional scissors set is undoubtedly sharp-definitely proceed with caution and skill. One reviewer confirms the quality, "So far these shears have been phenomenal. Be aware, they are super sharp. According to my hairdresser this is a good brand. The price is affordable and they've done a good job so far."
Best for Light Maintenence
Cricket Style Xpress 5.75" Shears
For light trimming between trips to the salon or bang maintenance, these shears offer a beginner-friendly handle and a sharp blade for precision cuts.
What is the difference between regular scissors and hair scissors?
Shears. Scissors. What is even the difference? According to Alex Brown, a celebrity hairstylist (Chrissy Teigen, Kendall Jenner), it all comes down to the design. "They're made to cut hair so both the shape and sharpness are different. They're thinner and easier to hold when cutting hair so it helps make the cut more precise. They're usually sharper so you can cut hair in one snip for a more-even cut without it getting stuck between the blades" she says.
What are some best practices for cutting hair at home?
Brown suggests going to a professional but if you can't wait, start by just trimming your hair. "I recommend only trimming bangs or split ends at home, I never recommend doing anything more than that.
Make sure hair is dry
For bangs, make sure hair is styled exactly how you'll wear it before cutting
Don't cut more than an inch if trimming split ends. If you can visibly see the damage or split end, only cut that off.
Brown also advises applying the "point cutting" technique. "Point cutting is when you take the tip of the scissors and cut directly parallel into the hair, rather than leaving a perpendicular, blunt line. This technique works best for bang trims and for trimming split ends."
This content is created and maintained by a third party, and imported onto this page to help users provide their email addresses. You may be able to find more information about this and similar content at piano.io
Advertisement – Continue Reading Below