'At 55 years old you CAN move those stubborn kilos' says Mum who's lost over 15 kilos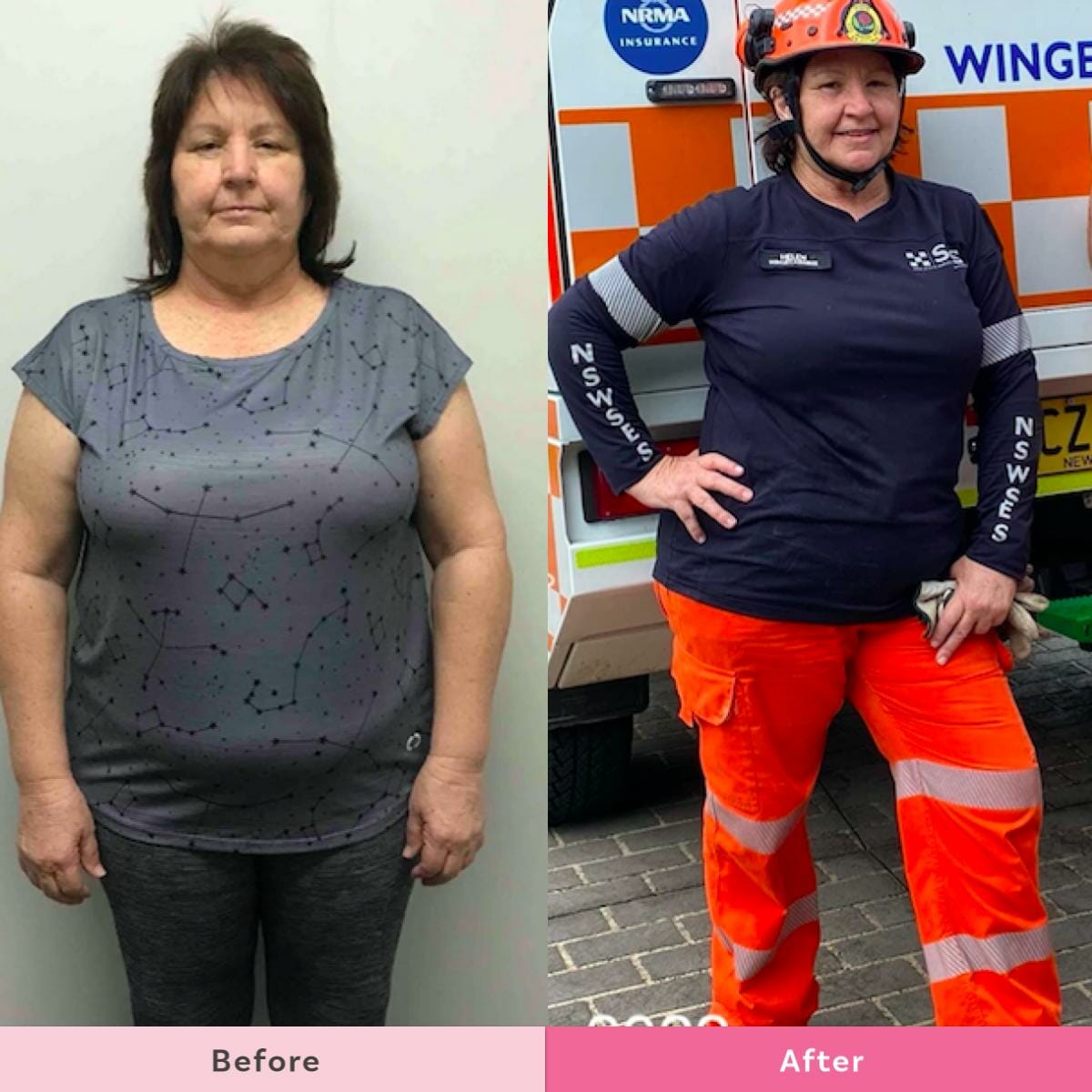 Yes Helen!!! This incredible mum has not only dropped over 15 kilos with the 28 Day Weight Loss Challenge, after transforming her lifestyle she now feels physically stronger than she did 20 years ago and has even successfully become a NSW SES Flood rescue volunteer, a course she failed to complete BEFORE she became a Healthy Mummy!
What's more, after suffering from Crohn's Disease for many years, Helen has found that since starting the Healthy Mummy program, her symptoms have improved dramatically!
See how she did it below!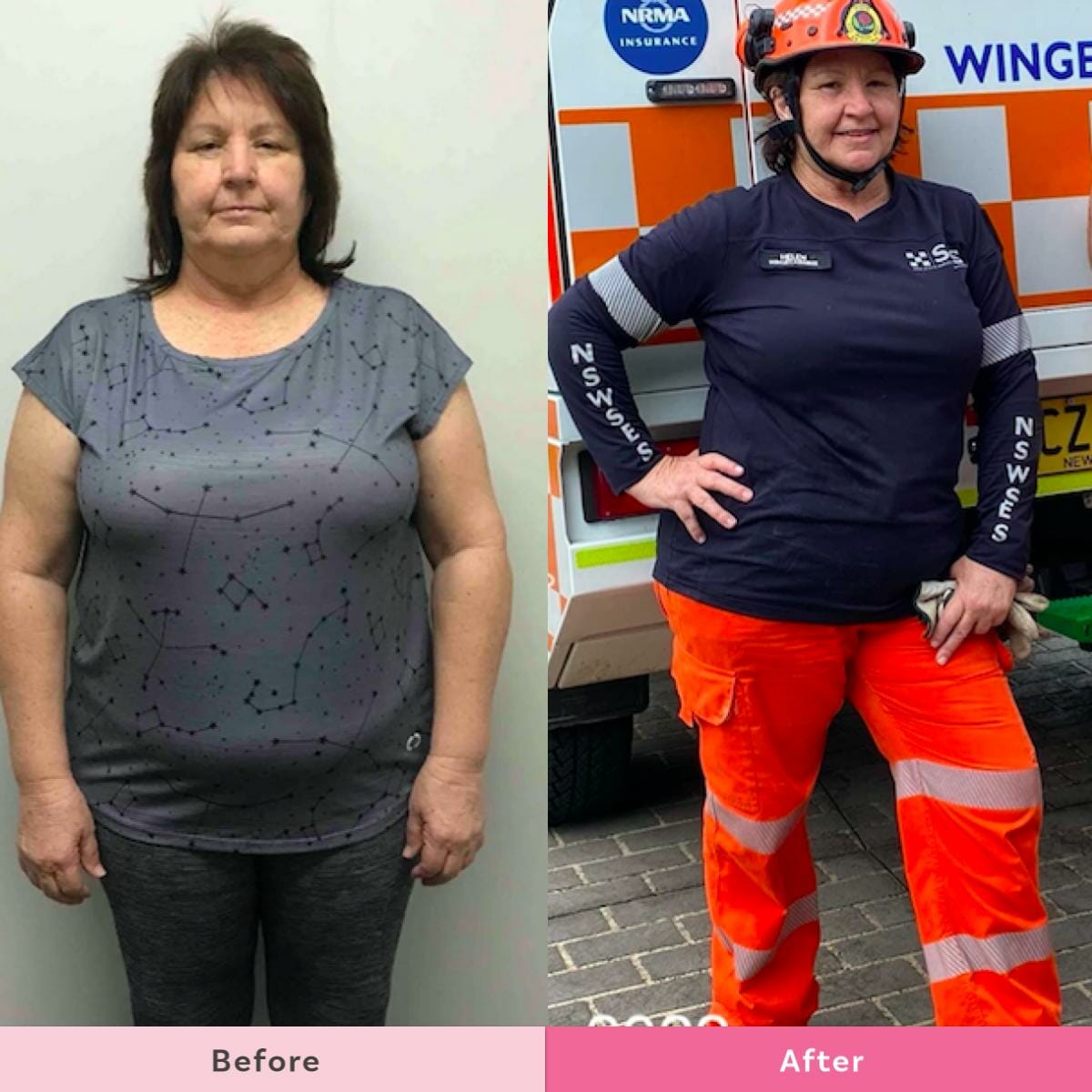 All about Helen
Helen Squires is from Wingecaribee in the Southern Highlands NSW. She describes herself as 55 years YOUNG, is divorced and lives her with 25 year old son.
Helen reveals that there was a defining moment when she knew she had to make a change.
She says, "It's that horrifying moment you step on the scales and have reached 100kg!"
Having tried many types of fad  diets before, Helen was determined to make lasting change, so seven months ago she ordered her first Premium Smoothie and started the 28 Day Weight Loss Challenge as a Platinum member.
Weight Loss Success
'I have lost a total of 15.6kg easily. 100.8kg down to 85.2kg so far!'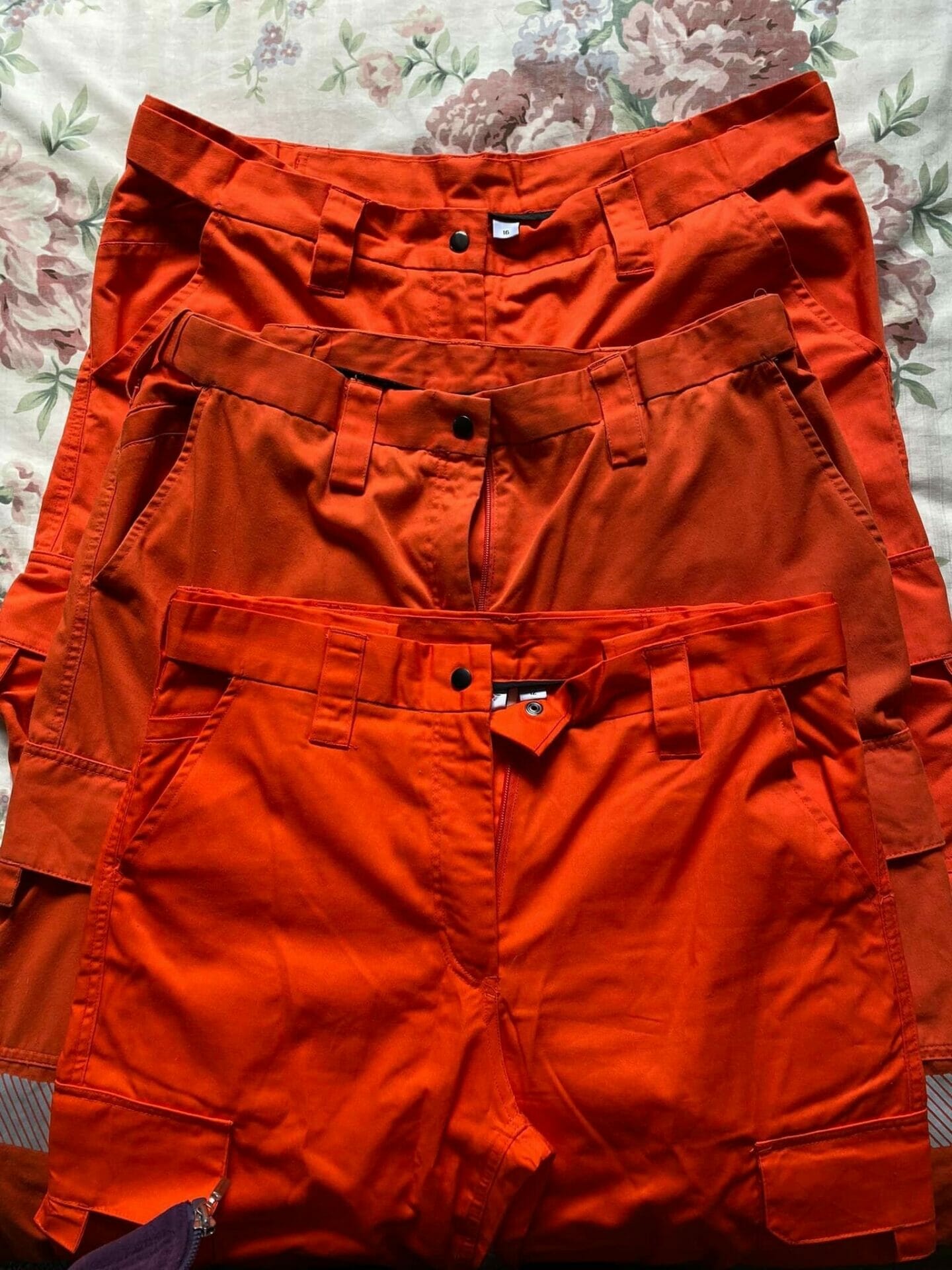 'My goal weight WAS just down to 80kg but once I reach that before my birthday at the end of June, I'm going to set just one more goal to get to 75kg.
'I never would have dreamed that getting to that was possible until I started The Healthy Mummy!'
'I HATED photos and hated doing anything. Now, the things I have accomplished have blown my mind.
Unexpected Health Benefits
Since living the Healthy Mummy lifestyle, Helen says her Crohns Disease, a type of inflammatory bowel disease, has dramatically improved.
She explains, 'My Crohns disease is inflamed by "high soluble fibre" foods i.e raw onion, oranges, cabbage, iceberg lettuce etc I found that my other past diet programs failed because I couldn't change any of the menu plans or packaged meals around or adjust them. I would give up and eat unhealthy again and of course fail.
Since starting The Healthy Mummy I can have The Premium Smoothies without any issues (abdominal pains & "camping out on the toilet" so to speak) I don't feel bloated at all, other companies diet smoothie mixes upset my gut terribly.'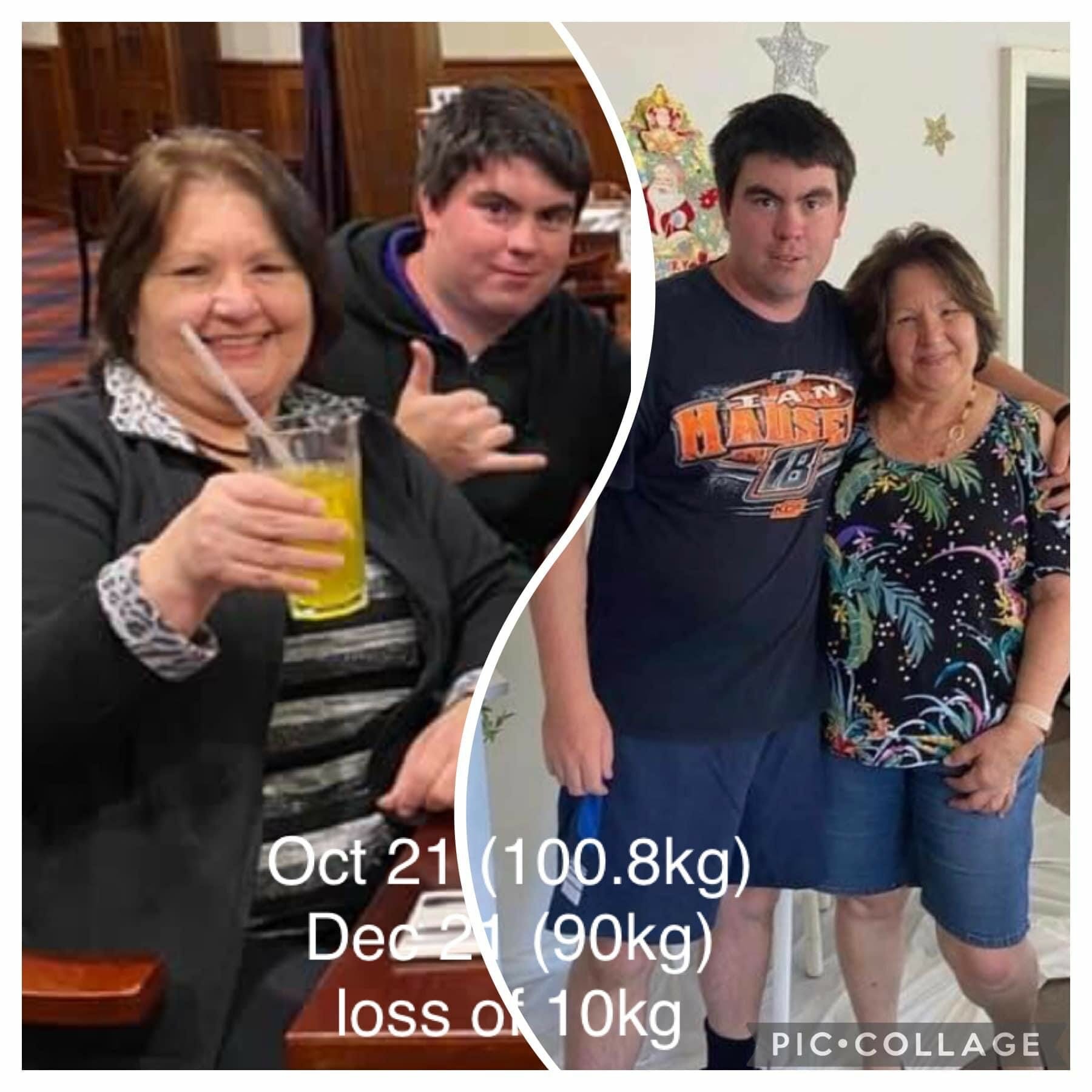 Helen reveals that the Healthy Mummy App with its flexible meal plans and recipes has opened up a whole new life of healthy eating and weight loss.
She shares, 'I SO love The Healthy Mummy App – If I can't have a certain ingredient I can ask for advice (from the The Healthy Mummy groups) and issue solved. I haven't had one bad CROHNS day (pain, bloating or "toilet" day since starting the program.
'Yes still prescribed medication but I don't have this horrible anxiety days worrying about a CROHNS attack whilst out & about. I have even taken up Aqua Aerobics which was a HUGE NO NO before The Healthy Mummy.'
Helen's NON SCALE Victory
Along with dropping over 15 kilos and overhauling her lifestyle, Helen says that at 55, she is now physically stronger than she was in her 30's! And she couldn't be prouder of her recent NSV!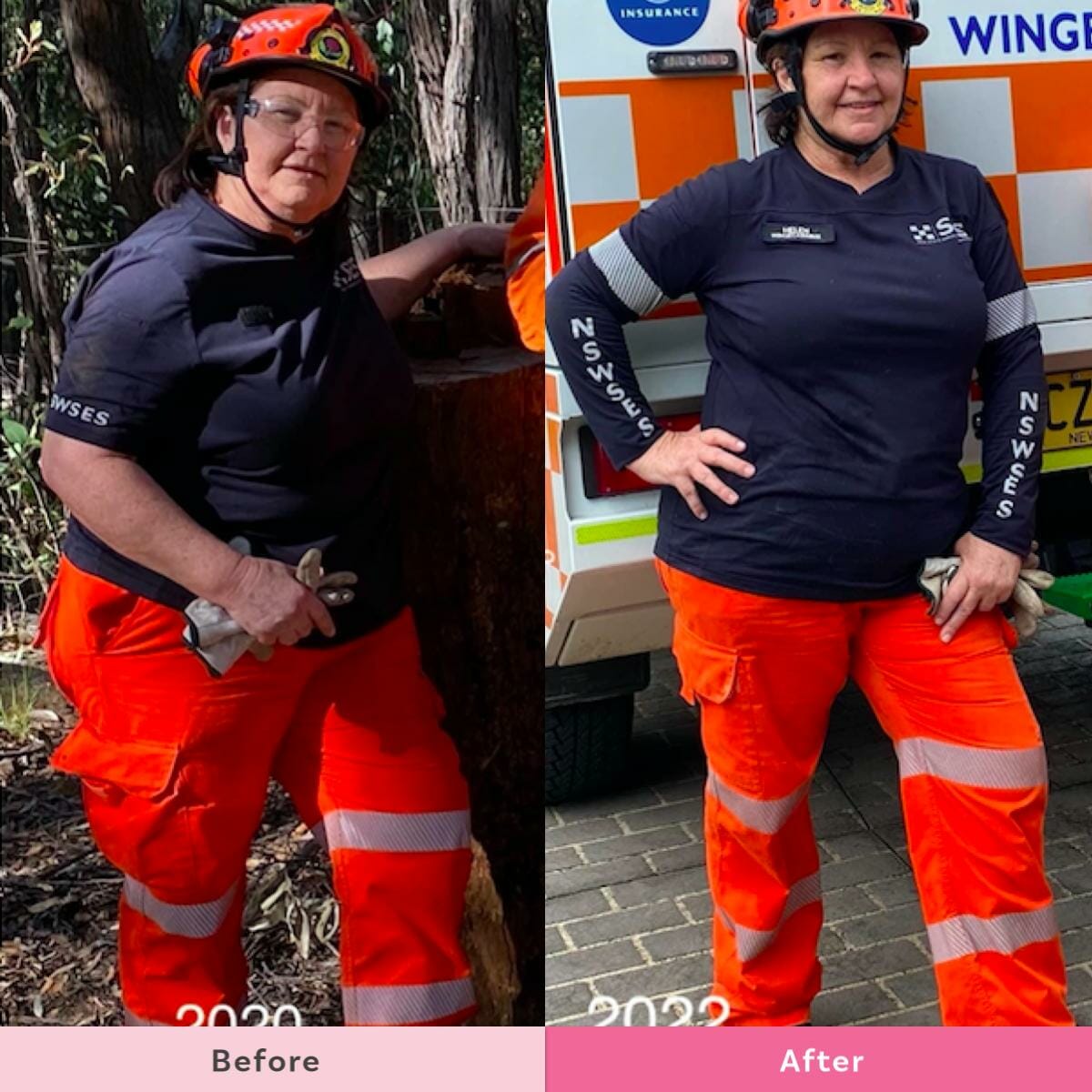 'A non scale victory I achieved was completing the Qualification as a NSW SES Flood Rescue Volunteer- a gruelling full day course IN the Swiftwater at Penrith.
'I failed to complete the course 1&1/2 years ago but I "Healthy Mummy" smashed it this time around.
'Mentally – I have more confidence with anything life throws at me I have learnt to believe in myself.'
Don't fall for those "fad" diets. I have failed so many times with the "quick weight loss diets" as you don't learn a new lifestyle. I am now a Platinum Lifetime Member  so I can pop back if I ever start gaining and re-set = success.
Helen's Typical Day on a Plate
Breakfast – Premium Double Choc Smoothie or Scrambled eggs with Spinach on Toast & Cup of Tea.
Morning Tea – A Healthy Mummy snack – usually a Muffin or Cookie from the meal plan and I start my first 1 Litre of water.
Lunch – A smoothie recipe, an app sandwich or soup – more water.
Afternoon Tea – A Healthy Mummy snack as with morning tea and I start my second Litre of water.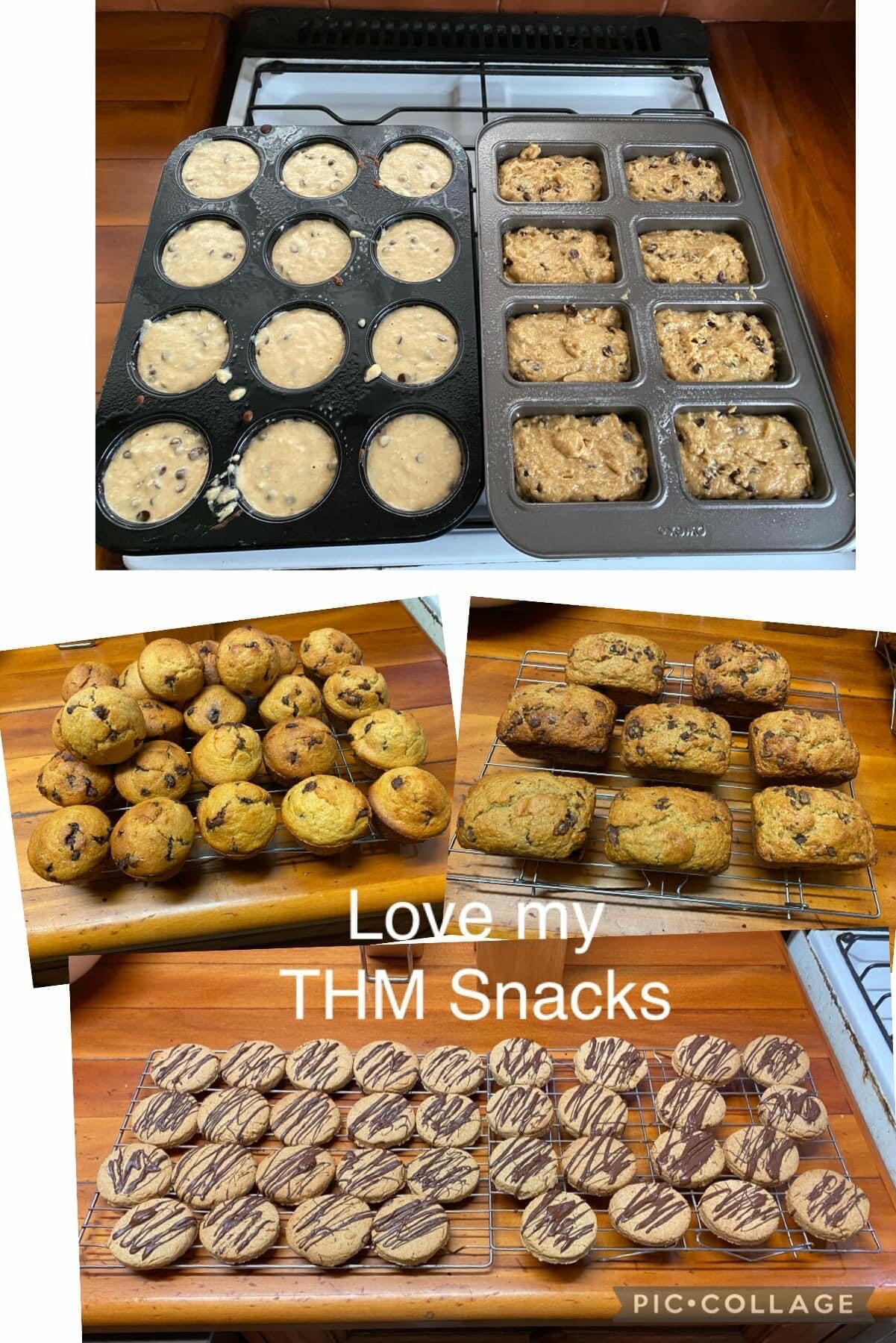 Dinner – One of the 100's of recipes, I have lots of favourites and  yes the Stovetop Lasagna is delish! I can have sweets – I love the Panna Cotta.
Evening Snack – Hot Chocolate with Collagen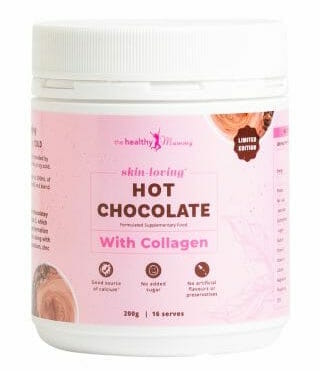 'I absolutely love the Premium range of Smoothies – I have my favourites  and the yummy smoothie recipes.'
Favourite snack recipe from the App

Favourite meal recipe in our house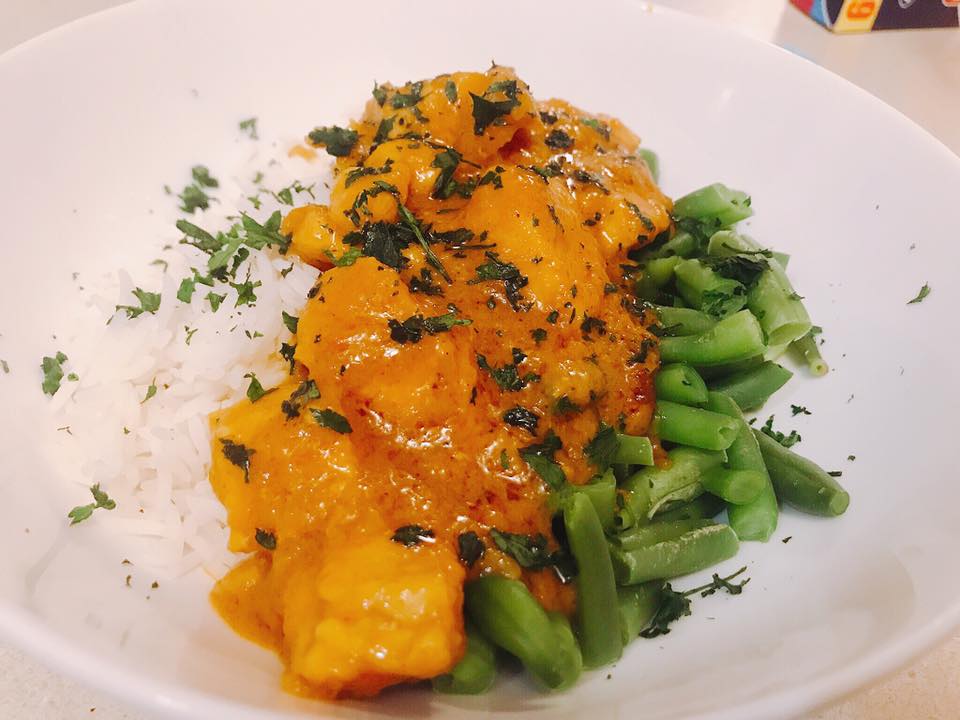 Helen's favourite App workouts
'I love the TAKE 10 workouts – I do a couple back to back. Such a variety to choose from . I also do 2 classes of Aqua Aerobics twice weekly.'
Helen's 3 tips for success
SIGN UP – take that first step to your success.
Start small – don't overwhelm yourself – pick some easy snacks to have on hand – browse the App Meal Plans and pick/tailor the recipes that suit your lifestyle, likes/dislikes.
Reach out to the #MotivatingMums on the groups for guidance, help or support if you are struggling with anything at all.
Helen also has some great advice for others who want to lose weight and are thinking of joining The Healthy Mummy.
'Take advantage of the joining up sales – try at a cheaper cost rather than an outlay. This is how I joined and quickly worked out The Healthy Mummy Program was exactly what I was looking for year after failed year on other diets.
'Keep your eye out on the group pages for lots of prizes to win and discount sales on Healthy Mummy products.'
Congratulations Helen and thank you for sharing your story with us!
Join Helen on the 28 Day Weight Loss Challenge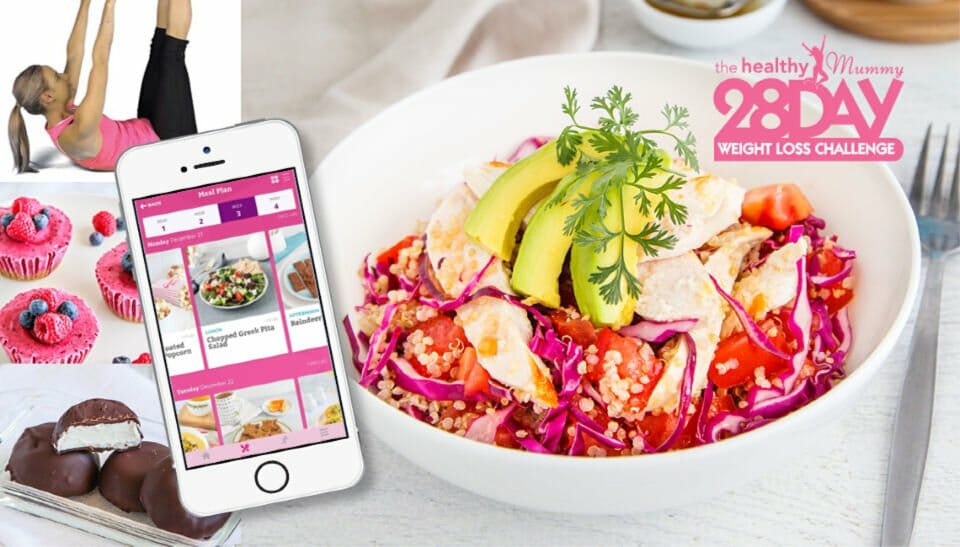 The 28 Day Weight Loss Challenge is the mums only 5 star rated app with over 1.6k reviews in 8 weeks!!
You get unrestricted access to :
● Nutritionist & chef designed weekly meal plans
● Over 500 different Personal Trainer crafted at-home workouts
● Daily Motivation from My Coach
● Personalised Shopping lists to make life easy
● Over 6000 healthy and delicious recipes at your fingertips
● REAL TIME support from The Healthy Mummy Team and OVER 300,000 other mums
CLICK HERE for more details