Hydrow vs. Ergatta: Picking the Best Rowing Machine For You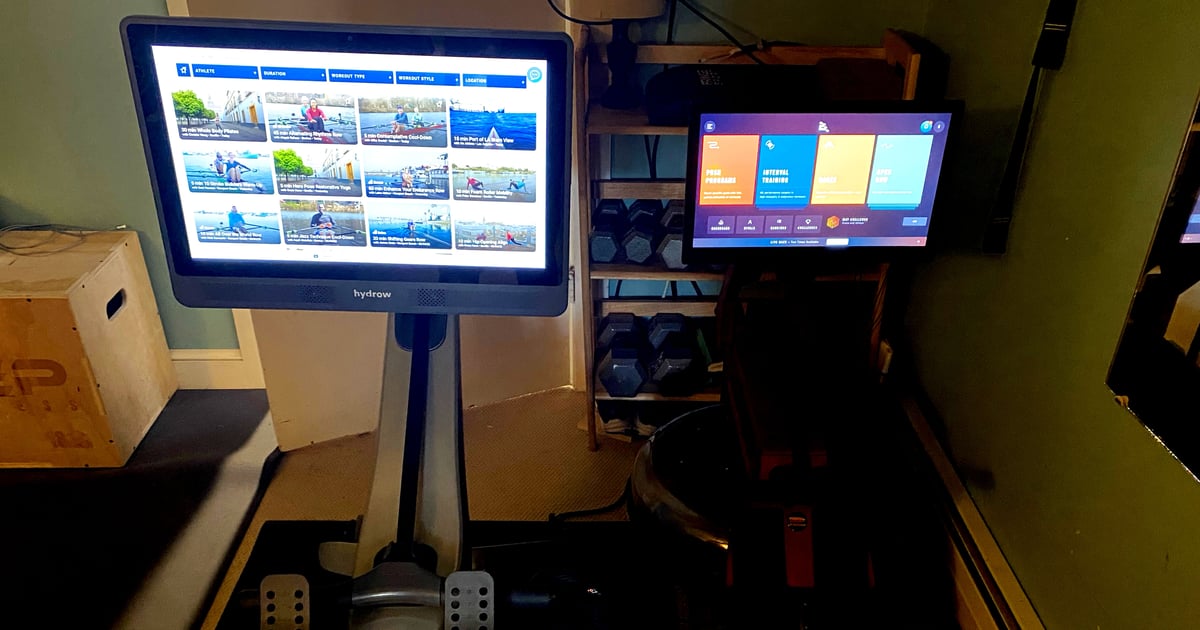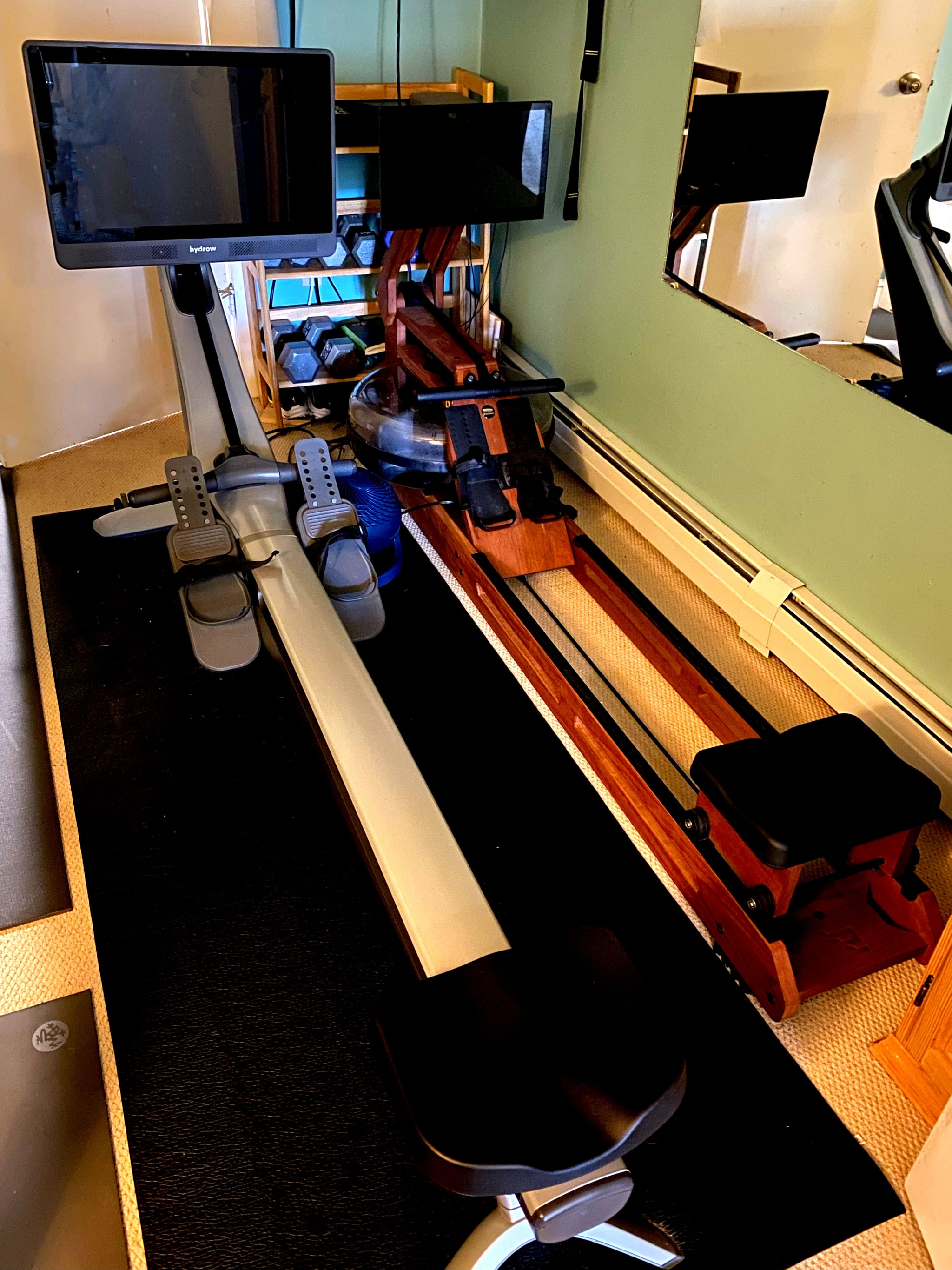 Image Source: POPSUGAR Photography / Jenny Sugar
Rowing offers an unbeatable, low-impact, full-body cardio workout that also builds muscle. It's gained popularity as a key part of CrossFit and Orangetheory classes, but it's a solid way to exercise all on its own.
If you are hooked and want the convenience of having a rower at home, you'll want to do your research. After all, any piece of home workout equipment is an investment. If you just want a rower without any bells and whistles, there are relatively inexpensive, basic rowers that allow you to hop on, row, and track your workout. However, if you're looking for more of an inspiring, interactive, or high-end experience, the Hydrow rower and the Ergatta rower should be top of your list.
Both the Hydrow rower and Ergatta rower have screens attached that offer guided workouts (for a membership fee), real-time workout metrics, and challenges that encourage you to reach various fitness goals, but they're quite different in their mechanics and aesthetics. I was able to try them both in my home, so I can attest that they both row smoothly and have amazing features – but that said, I love them for different reasons. If you're trying to decide between the Hydrow and Ergatta rowers, read on to see how they compare, so you can decide which is the best rowing machine for you.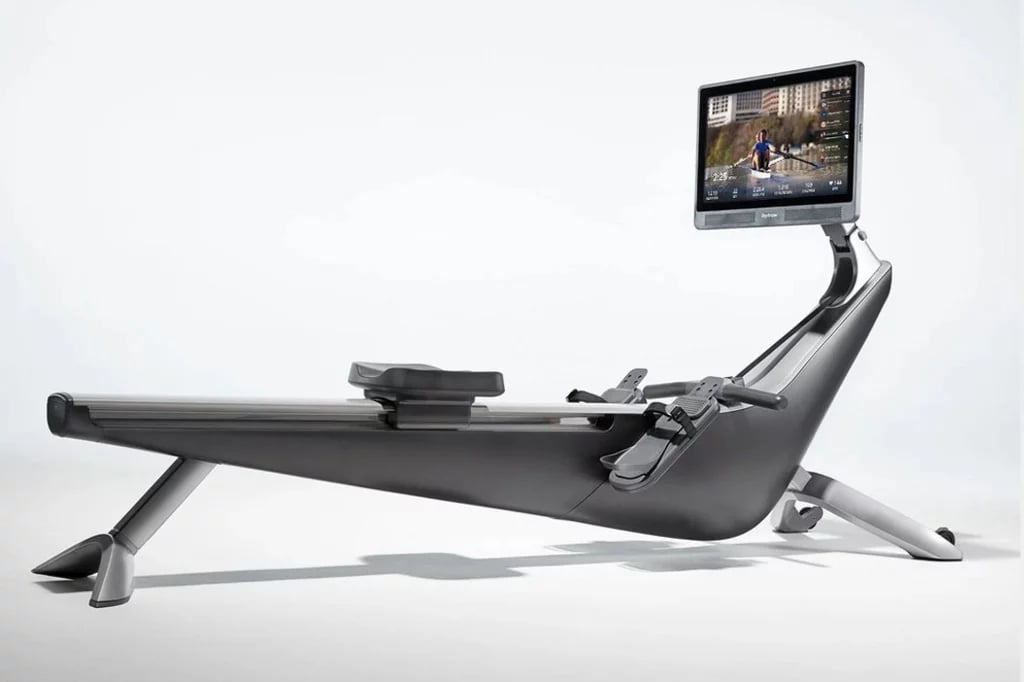 Image Source: Hydrow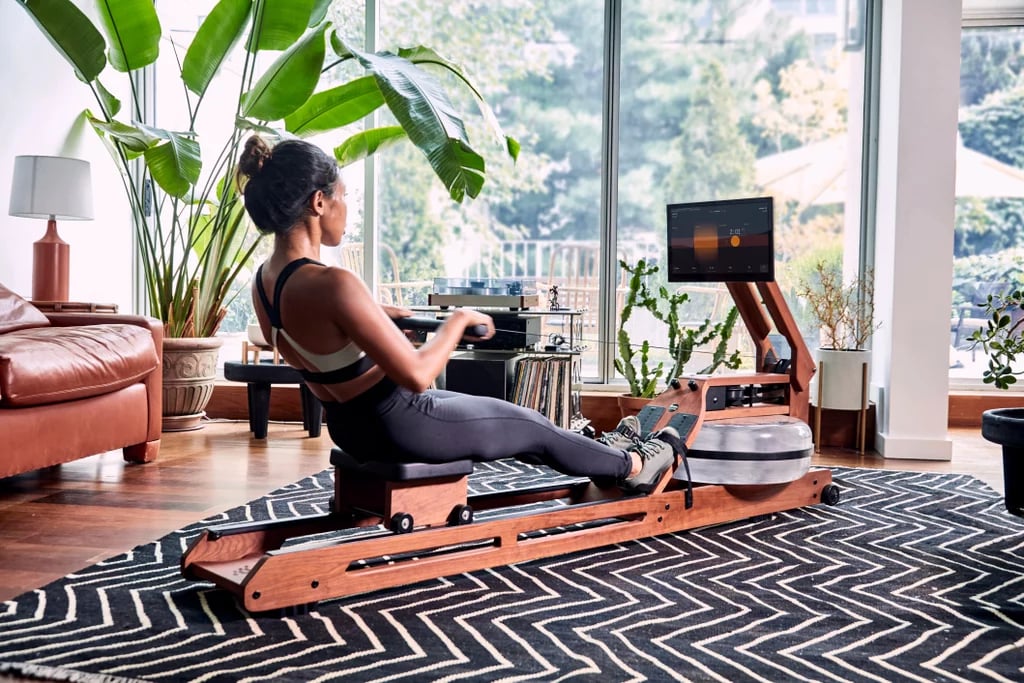 Image Source: Ergatta
Hydrow vs. Ergatta: Dimensions and Storage
Hydrow:
86″L x 25″W x 47″H
22″ touchscreen: 1920 x 1080 full HD
145 lbs.
Supports up to 375 lbs. and 36″ inseam
Ergatta:
86″L x 23″W x 40″H
17.3″ touchscreen: 1920 x 1080 full HD
103 lbs. (76.5 lbs. without water)
Supports up to 500 lbs. and 40″ inseam
Having both rowers side by side, it's easy to see that the Hydrow looks a bit more modern, sits much taller, and takes up more room. The Ergatta has a different aesthetic, with a wooden frame and water tank. The Ergatta rower also has the ability to stand upright when you're not using it (making the dimensions 23″L x 22.5″W x 86″H), whereas the Hydrow cannot be stored upright. Both rowers have little wheels on the base, so they can be easily pulled out to where you want to work out, then pushed back against the wall when you're done.
Another somewhat unexpected difference between the two rowers is the foot positioning: there are several more inches between the footbeds on the Hydrow (six inches) as compared to the Ergatta (2.5 inches). The foot width positioning can't be adjusted on either rower. Being 5'2″, the Ergatta felt more comfortable for me, but my 5'10" husband liked the Hydrow's wider foot positioning better.
Hydrow vs. Ergatta: Resistance
The Hydrow uses electromagnetic resistance, which you can adjust with the tap of a button on the screen; just choose a drag setting from 0 to 300. When you're rowing, it actually feels a lot like a water rower, but quieter, and you can adjust the drag more easily.
The Ergatta is a water rower, meaning it has a water tank and a flywheel with paddles. When you row, you're working to pull the paddles through the water. To increase or decrease the resistance, you need to manually add or remove water from the tank. You can hear the water slushing with a calming, meditative "swoosh" as the paddles move while you row, which makes it feel a lot more like being in an actual boat on the water.
Hydrow vs. Ergatta: Touchscreen Quality and Interface
The Hydrow and Ergatta both have gorgeous touchscreens, though the Hydrow's is noticeably larger. They are both easily reachable while you're strapped in and react instantly to the tap of a fingertip, with clear, high-definition displays. On both models, you can fold the screen arms down for storage.
The operating systems on both rowers allow you to set up multiple user profiles that store each person's workout data separately. And there's great news for large families or households with several people who want to row: on both the Hydrow and Ergatta, you can create an unlimited number of profiles under one membership. For example, I was able to set up four profiles (for everyone in my family) on both rowing machines.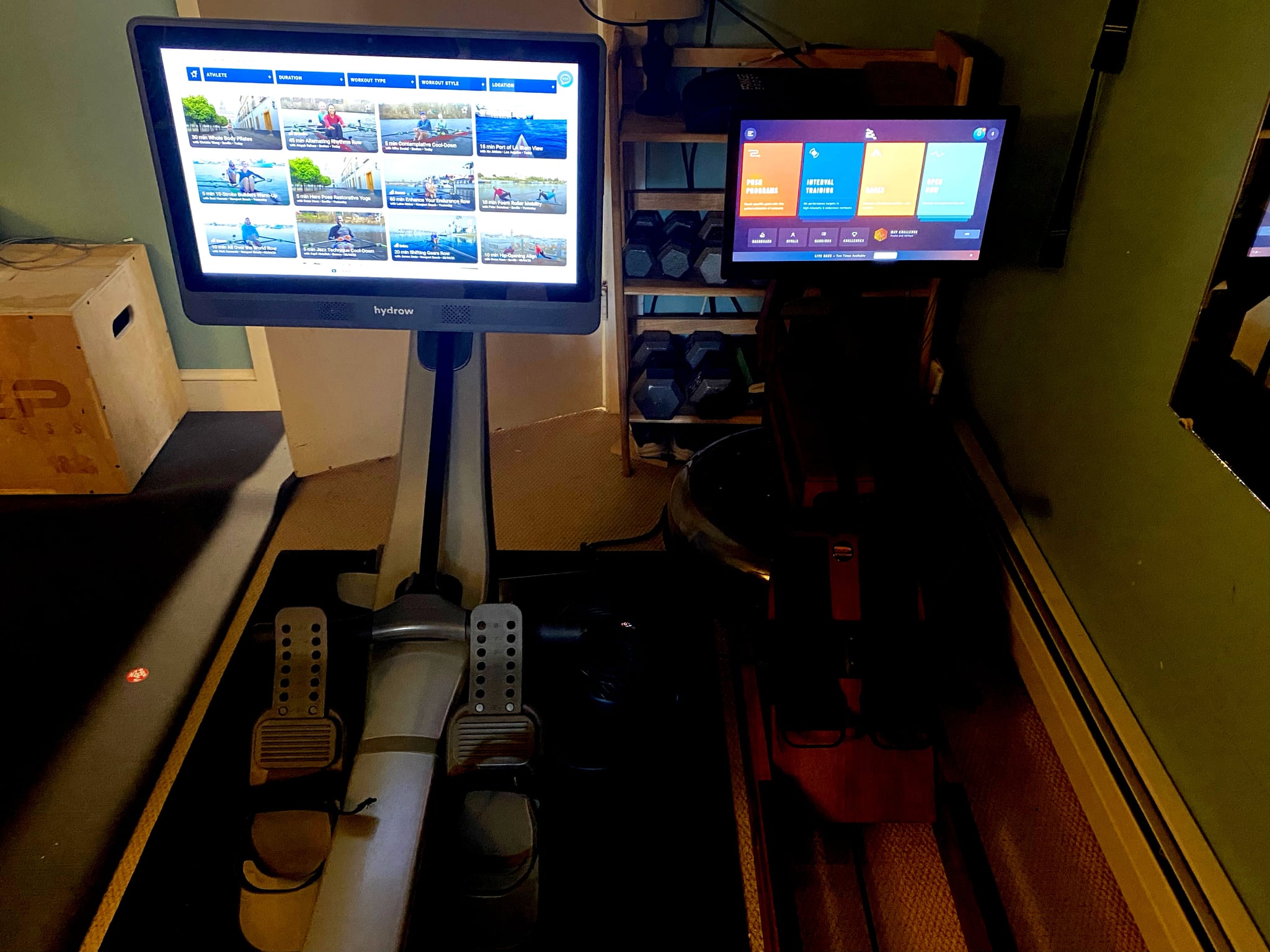 Image Source: POPSUGAR Photography / Jenny Sugar
Hydrow vs. Ergatta: Workout Experience
This is where the differences between the two rowing machines are most apparent. Both rowers give you the option to do scenic rows through footage of actual waterways, allow you to pause workouts (an underrated but necessary feature), give you the option of doing open rows (i.e., rowing without instruction), and have accompanying apps. Otherwise, the workout experience is quite different.
Working out on a Hydrow feels like you're taking a fitness class. To choose a workout, you can scroll through video thumbnails or filter by type, duration, instructor, or location. On the screen, there's an instructor (or two) who is actually in a boat on the water; they talk you through the workout, offer tips and encouragement, and keep track of time and intervals all while doing the same workout on the water themselves. During the workout, your stats are visible at the bottom of the screen.
There's a wide variety of rowing workouts to choose from, and it also offers nonrowing classes as well, such as yoga and strength training. When you're doing a nonrowing class, you can even pivot the screen so you can see it while working out beside the rower. In addition, you can stream classes on the Hydrow app even when you're not working out with your rower. (Someone without the rower can even purchase a Digital Basic Subscription for $20/month to get access to the app alone.)
The Ergatta workout experience is more like a video game than a fitness class. There are four workout options: push programs (a series of workouts to meet a goal, such as "row a 10K"), interval workouts (based on time, distance, or intensity), race workouts (where you race community members), and open rows (with either a scenic or game-like view that just shows your stats). The variety of workout styles helps keep things interesting and allows you to work on different goals. In all workout types, you can see your split (pace) as a colored flash of light moving along with you.
In the interval workouts, you aim to hit personalized targets, like collecting coins. (I found this to be super motivating because I can actually see if I reached a goal or not, which pushed me even harder.) The races allow you to compete against other rowers (though not in real time) – and it feels amazing to row past someone, even if it's only virtually. Most often, I found myself doing the open rows since I'm more into long-distance rowing. I felt that I was more motivated and got better workouts using the Ergatta since I loved the game-like, competitive feel. You can't take classes on the Ergatta app, but you can track your progress and plan your workouts.
Hydrow vs. Ergatta: Workout History
Both rowers offer workout tracking on the screens, though they display it in different ways. The Hydrow app and Ergatta app both allow you to easily check your stats on your phone instead of on the rower's screen, as well.
Hydrow keeps track of the workouts you've completed on a progress calendar, where it displays little blue circles for each workout you've completed. I found that the calendar visual really helped motivate me to be consistent with my weekly workouts. (That said, it only allows you to see the past five weeks; I would have liked to be able to see all my past workouts.) The Hydrow also keeps track of your total lifetime meters rowed.
Ergatta tracks every workout you've ever done in a bar graph, and each one is color-coded by type, so you can see right away if you've done more interval workouts or more open rows, for example. It's a really fun experience for data-lovers (myself included), since you can choose to view your data by days, weeks, or months and by meters rowed, split, calories, or power. I've found it really motivating to try to beat the meters I rowed the week or month before or to beat my split on a certain distance.
Hydrow vs. Ergatta: Setup and Maintenance
The Hydrow costs $150 for delivery (self-assembly) and $249 for professional delivery and setup (which includes placement in your room of choice – including up or down one flight of stairs inside your home – assembly, and removal of packaging). It came in a large box and was too heavy for me to carry with one other person. We needed two people and a dolly to roll it down to my basement, and it took two people about 45 minutes to put it together. Once assembled, it was easy to connect to my WiFi and get my membership and profile set up.
The Ergatta costs $149 for delivery (self-assembly) and $249 for professional delivery and setup (in which a local team delivers the fully assembled machine to your home). Already assembled and filled with water, it was doable for me and one other person to carry the Ergatta into my basement. Once I connected to my WiFi, it was easy to set up my membership and my profile. I was rowing within 15 minutes.
Since the Ergatta is a water rower, you need to monitor the water level as evaporation happens, and the water level will slowly decrease. That said, I found I only had to refill it once in the past year. For both rowers, you'll need to regularly install software updates. (In either case, it's super easy, only taking a few minutes each time.)
Hydrow vs. Ergatta: Cost and Membership Fee
If you purchase a Hydrow rower ($2,495), you need to pay $38 per month for the membership in order to have access to the library of 3,000-plus workouts.
An Ergatta rower ($2,199) is slightly cheaper initially and then costs $29 per month (or $290 per year) to access the content. Neither rower allows you to simply row and see your workout data without the subscription.
Hydrow vs. Ergatta: Warranty
The warranty for the Hydrow is five years for the structural frame and upright storage kit (which is sold separately from the rower for $80) and 12 months for components, screen, and other electronics.
After purchase, the Ergatta is covered by a five-year warranty on the structural frame, a three-year warranty on parts, and a one-year warranty on the tablet.
Hydrow vs. Ergatta: Which Is Best For You?
Based on this info, hopefully you'll have a good idea of whether the Hydrow or Ergatta would be a better match for you. Both are excellent rowers – after all, they're two of the best rowing machines out there – and offer a smooth, quiet workout that will strengthen your heart and your muscles. If you like workout classes where a person leads you, the Hydrow is your best bet. But if you're more data-driven and competitive and you like to be pushed to reach fitness goals, go for the Ergatta. The great news? You honestly can't lose with either one.