Kylie Jenner Wears Sexy Bodycon Floral Dress During Kourtney's Wedding Weekend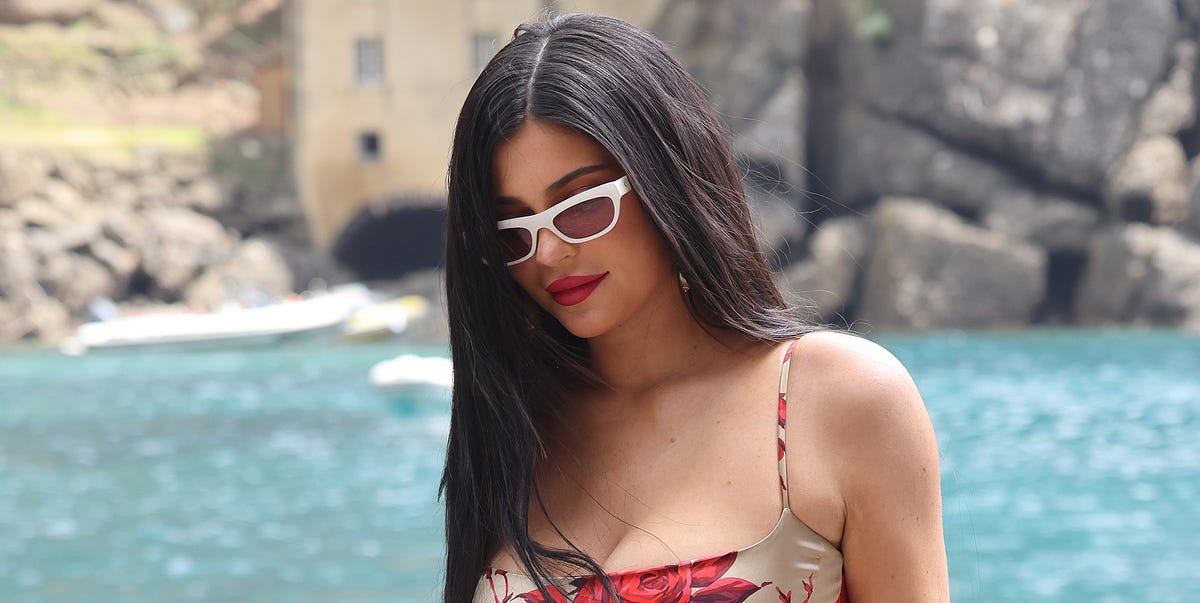 On Saturday, Kylie Jenner stepped out with her six-year-old daughter Stormi in Portofino, Italy, one of many Jenners and Kardashians in the seaside town this weekend. The family is there to celebrate the nuptials of Kourtney Kardashian and Travis Barker, and fashion is one of their favorite ways to celebrate.
As she and Stormi walked to the yacht, Kylie's long dark hair streamed in the wind. She was wearing a bodycon dress that hugged her figure, with spaghetti straps and a low cut square neckline. The dress was patterned in large red florals against a tan background. She wore small white-rimmed sunglasses, and a bright red lip to match her dress. For accessories, she was carrying a woven straw box bag and wearing flat sandals by Gianvito Rossi.
Little Stormi enjoyed a popsicle on the sunny day, and wore all white from her Dolce & Gabbana sundress to her white Nike sneakers and white socks.
The night before, Kylie enjoyed an evening out with her sisters at a restaurant in Portofino wearing a tight black mini dress featuring halter straps, paired with dramatic black-and-white blocked knee-high boots and carrying a matching bowling bag purse.
"You can feel all the love. Everyone is very excited to celebrate Kourtney and Travis" a source at the weekend of events told People. "It's a beautiful evening, Kourtney looks gorgeous!"
This is one of many celebrations that Kourtney and Barker have enjoyed to mark their union, first with a visit to Las Vegas with what looked like a spontaneous elopement. Then, they were officially married in Santa Barbara on Sunday before heading to Italy.
Another source told People, "They had to legally get married first ahead of their big Italian wedding, which is happening very soon."
They added, "All the details are set, and the whole family, including all the kids, are very excited."
This content is created and maintained by a third party, and imported onto this page to help users provide their email addresses. You may be able to find more information about this and similar content at piano.io