Mum makes 49 serves of main meals for just $153 with the New 3 Pot Meal Plan!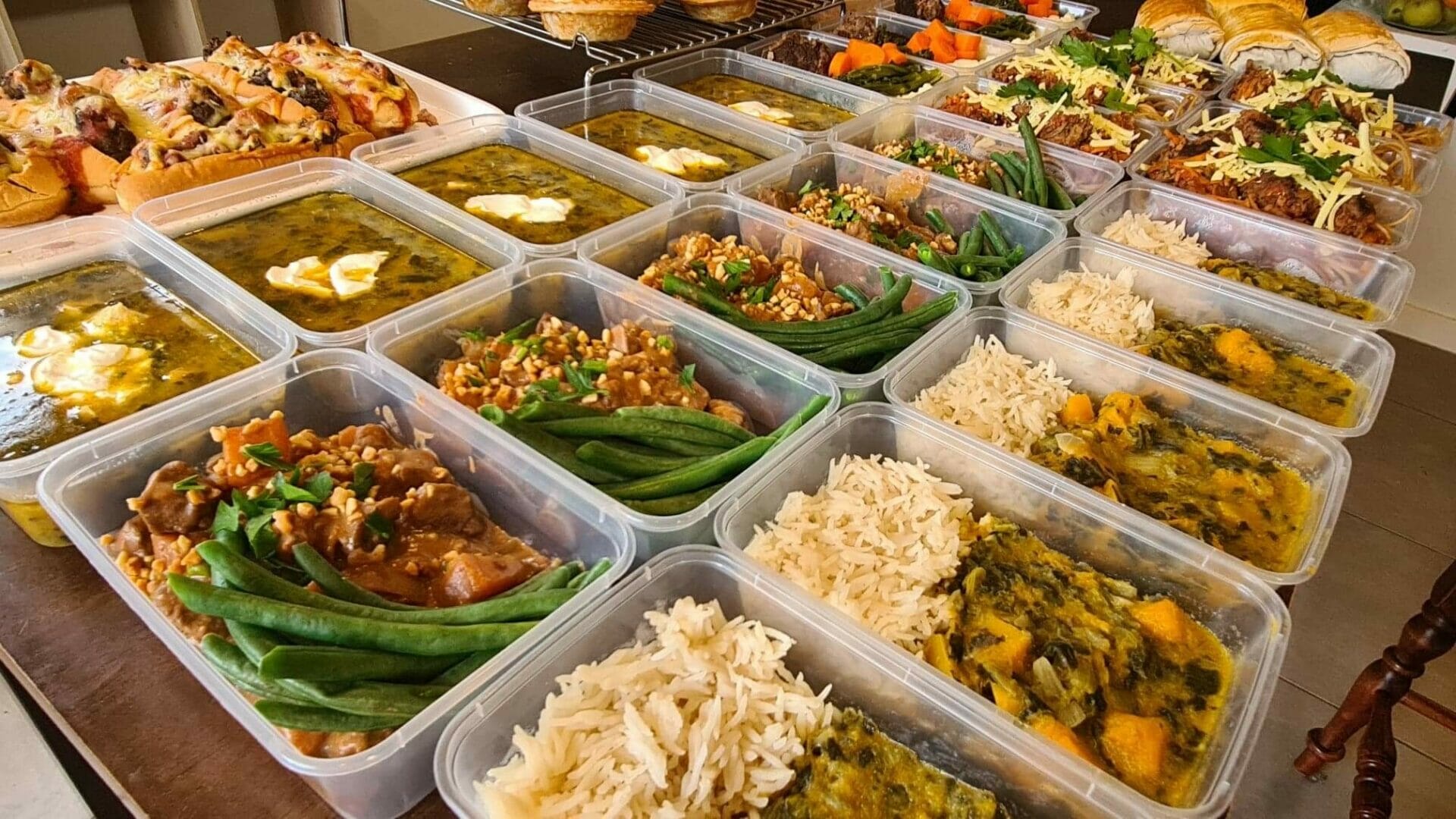 Go Shelley – what an incredible Meal Prep!!
This Mum of 4 from Victoria has shown just how much time and money she can save by following the Healthy Mummy's new 3 Pot Meal Plan in the Healthy Mummy App!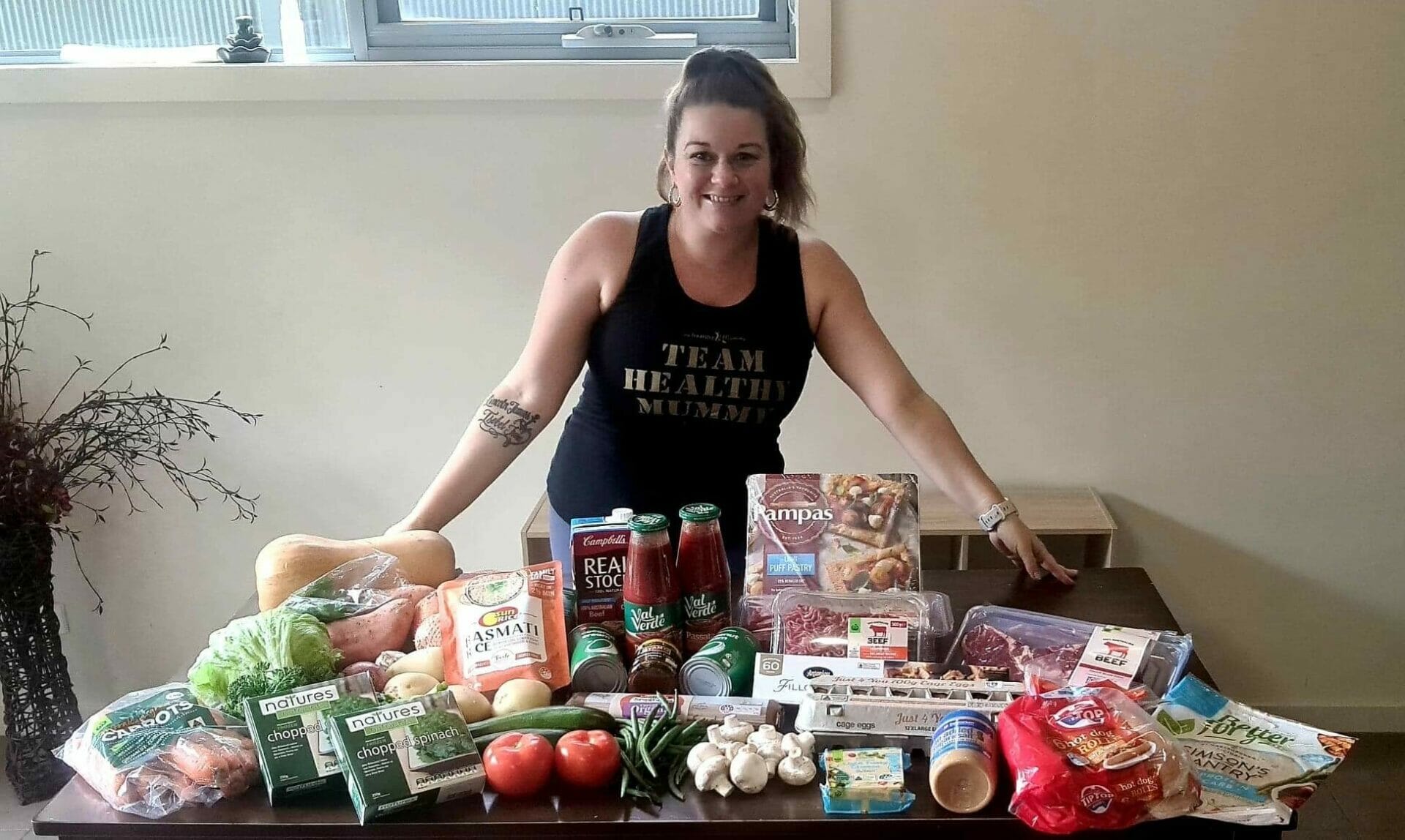 Shelley has pulled off this amazing meal prep cooking up 49 serves of main meals in just a couple of hours. What's more the total cost was just $153.39!
For anyone who thinks healthy eating is more expensive, Shelley has yet again proved otherwise. Each of these delicious healthy and home cooked meal cost just $3.13 per serve!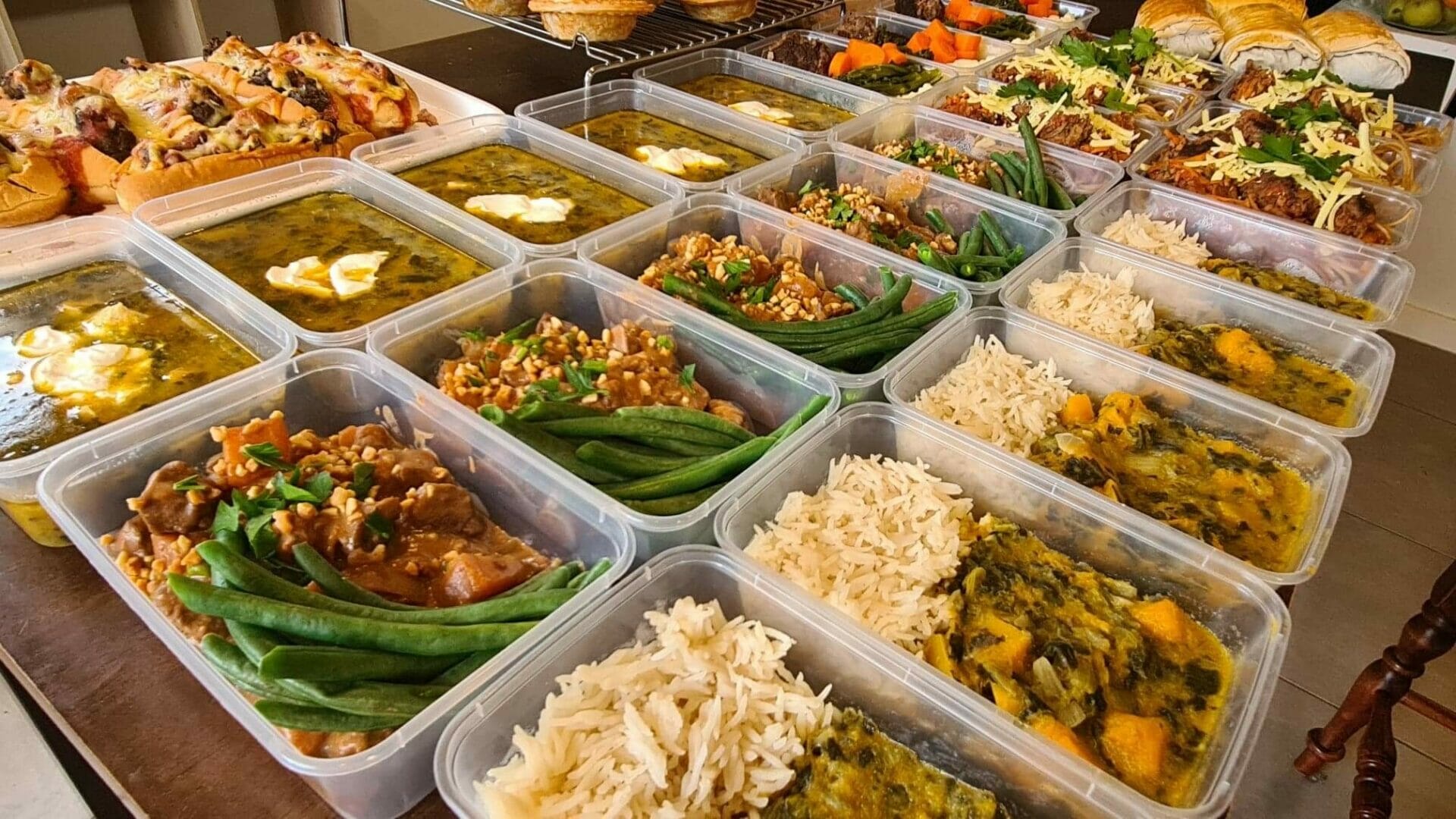 About Shelley
Shelley Moore is 32 and a busy mum of 4. She works as a nurse in an Emergency Department in Melbourne.
'I have been a Healthy Mummy member for around 3 years, often utilising the recipes for snacks and meals but not fully committing to the program until around 6 months ago. Since then I have lost 11kg, started running and swimming.'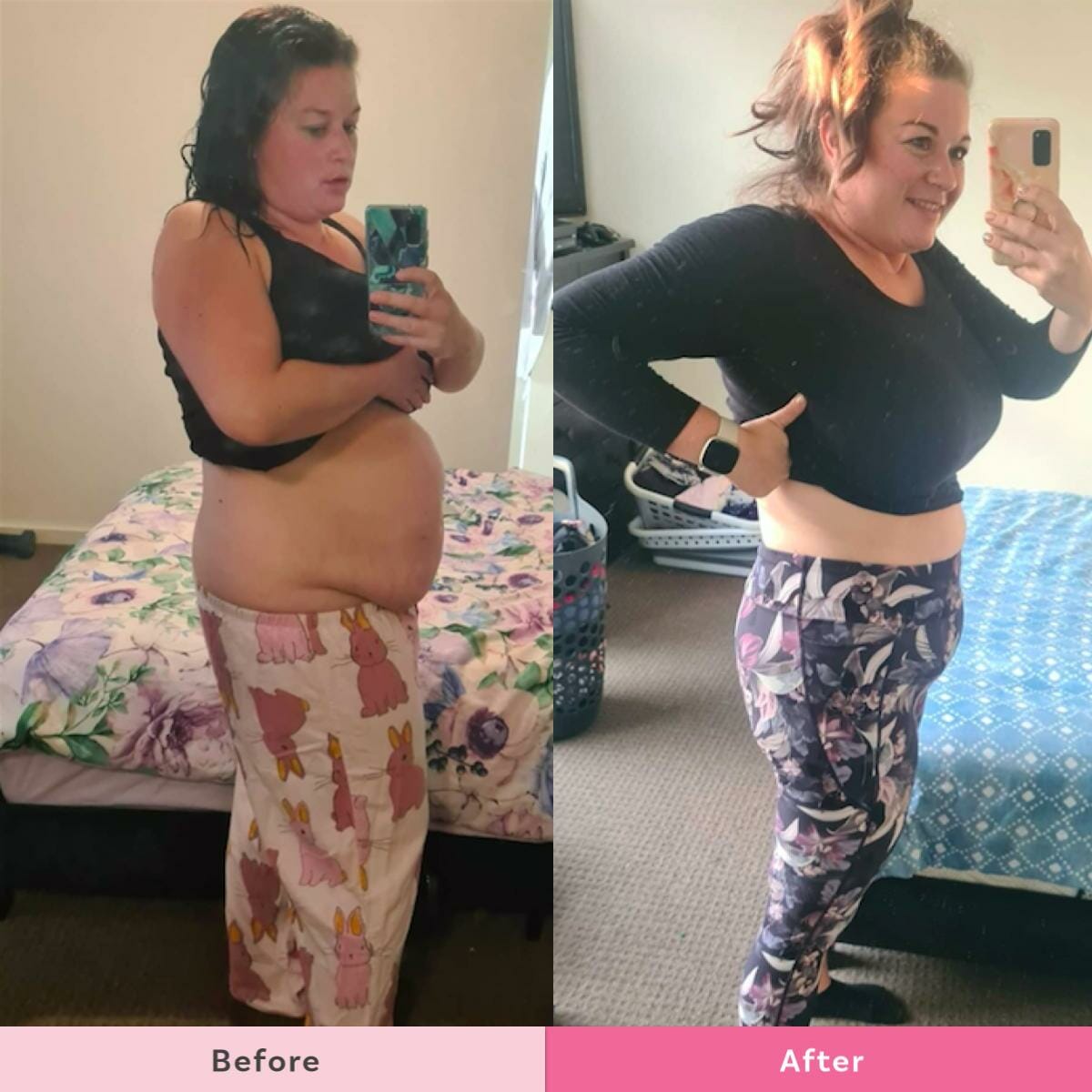 Shelley's AMAZING Meal Prep
Shelley reveals that meal prepping has really helped with her weight loss journey, taking the guess work out of what to eat during the week as well as saving heaps of cash.
She says, 'I think it's so great that by taking a couple hours to cook and prepare these super easy, nutritious and tasty meals means that for the whole week (if not longer!) I don't have to think about what we're going to have for dinner or what I can bring to work.'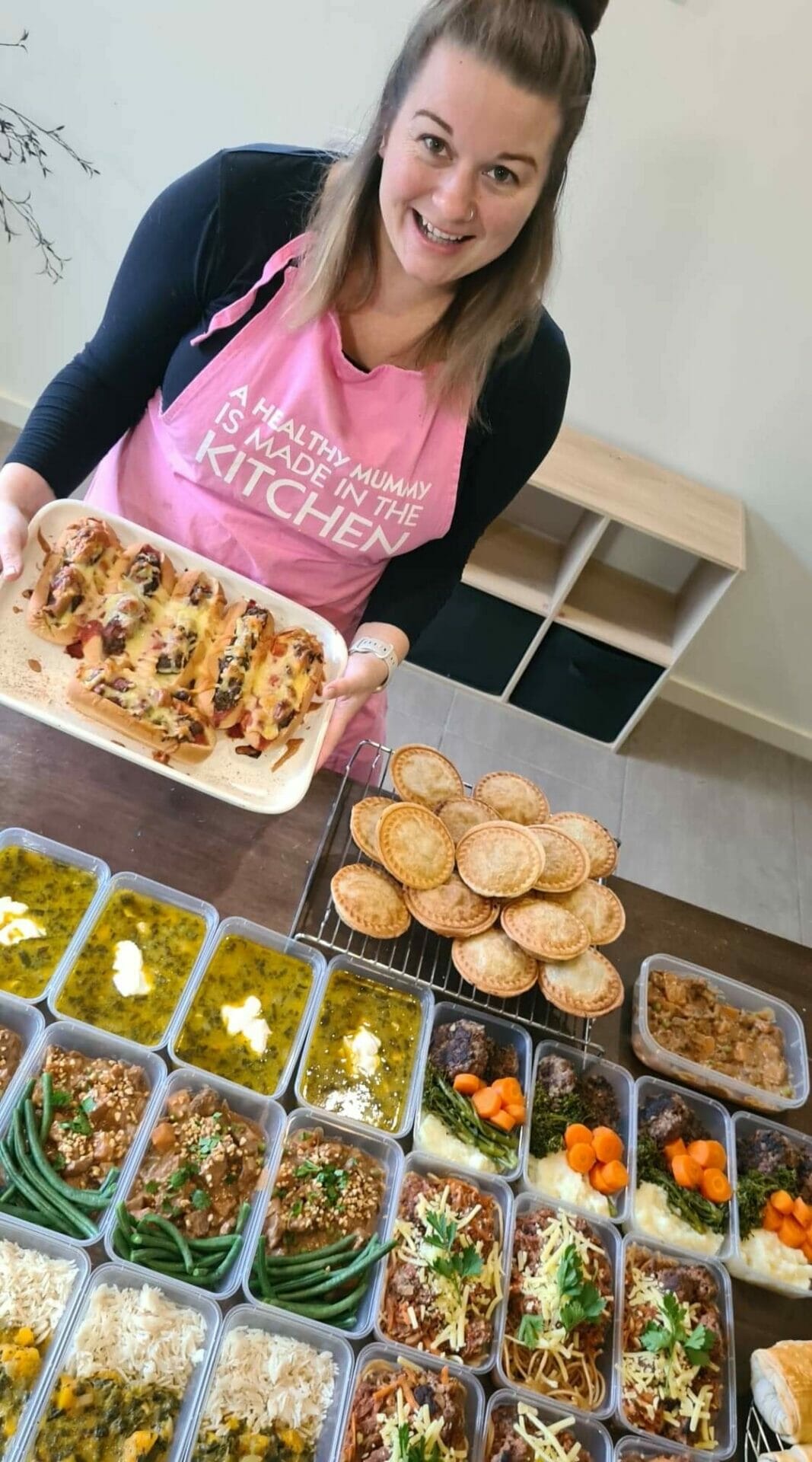 'Plus at only $3.13 per serve, I have saved so much money compared to how much I would normally spend. The difference in cost and time means I'll be less stressed during the week, and this will impact positively on myself and my family.'
The New 3 Pot Meal Plan
The 3 Pot Meal Plan is perfect for busy Mums! It shows you how you can make 3 bulk recipes per week and turn the leftovers into a variety of wonderful meals. It's all about making the most out of your time in the kitchen, saving you time and money.
What Shelley Made on her Mega Meal Prep

Bulk Recipe 1. Bulk Cooked Potato and Peanut Beef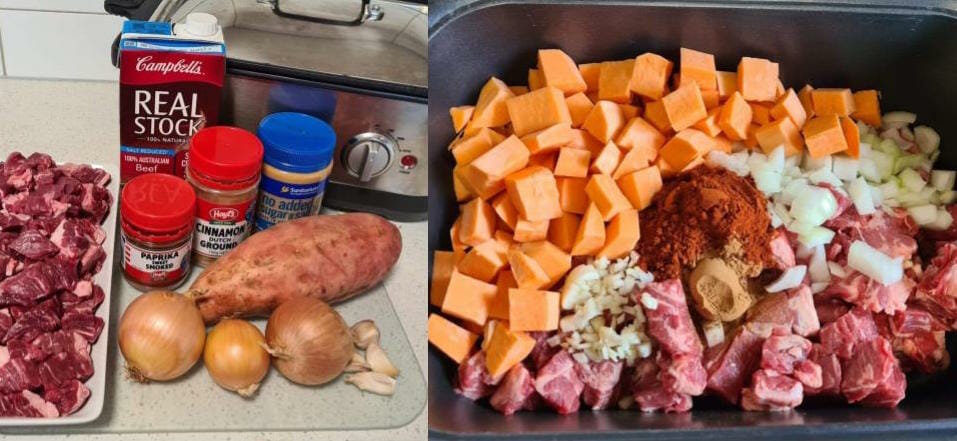 This made:-
6 x serves Slow Cooked Potato and Peanut Beef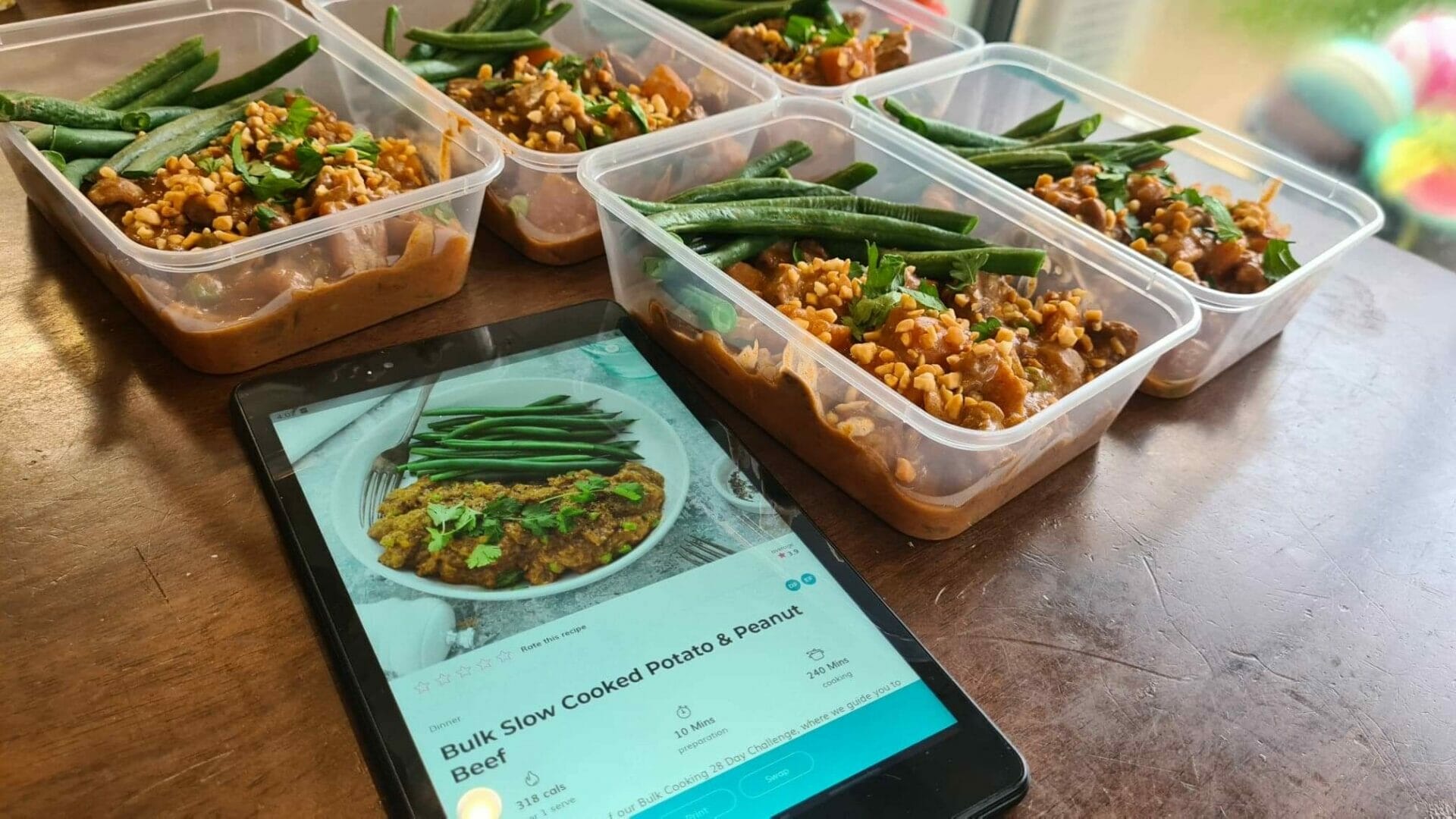 5 x serves Slow Cooked Peanut Beef Wraps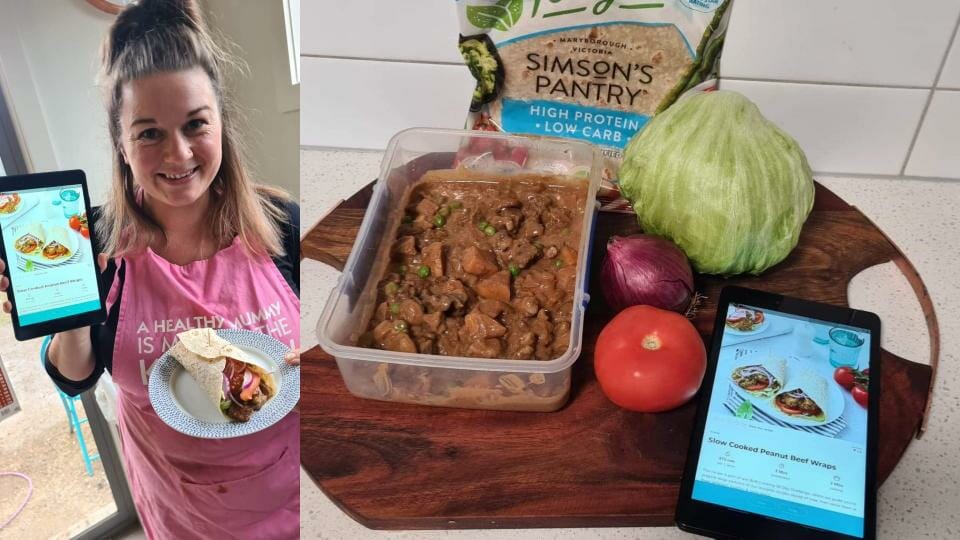 4 x serves Slow Cooked Beef Filos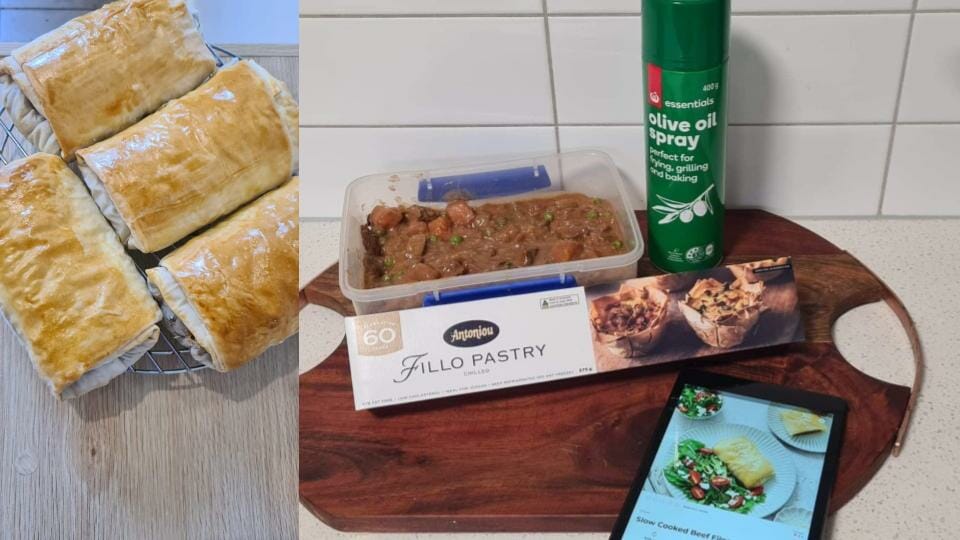 Bulk Recipe 2. Bulk Rissoles & Vegetables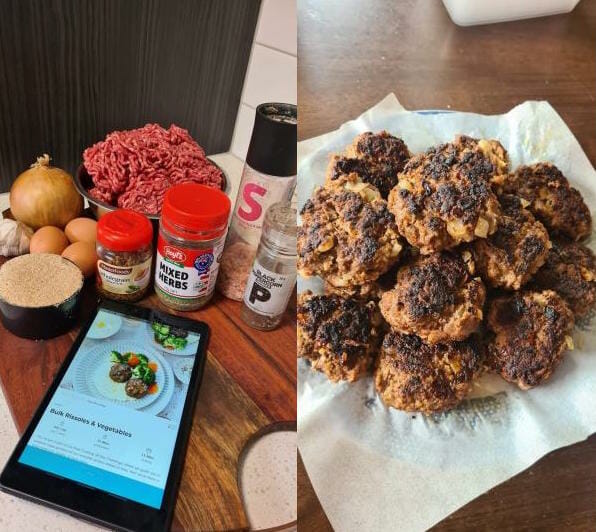 This made:-
5 x serves Rissoles & Vegetables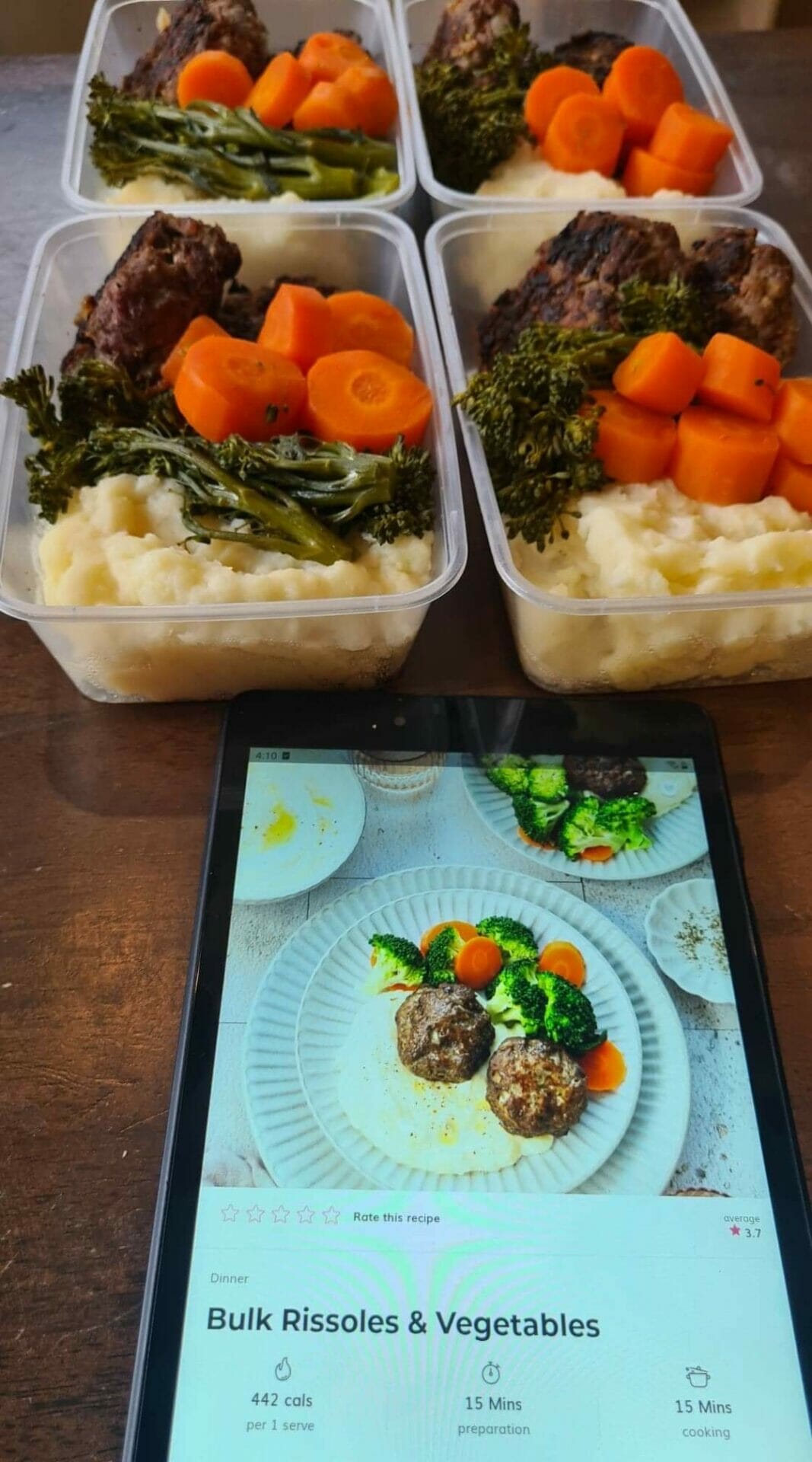 6 serves x Meatball Subs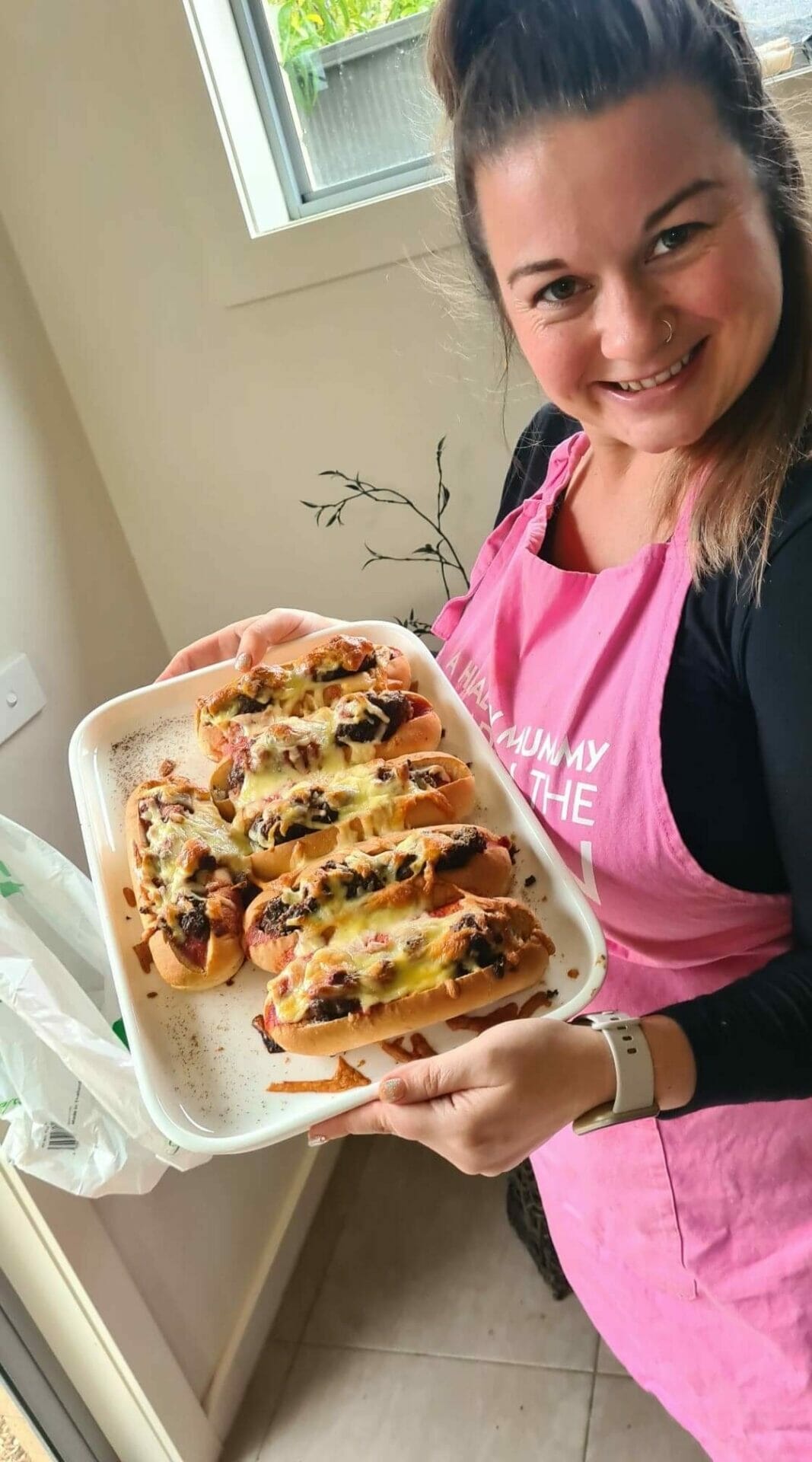 6 serves  x Spaghetti & Meatballs

Bulk Recipe 3.  Bulk Spinach and Pumpkin Curry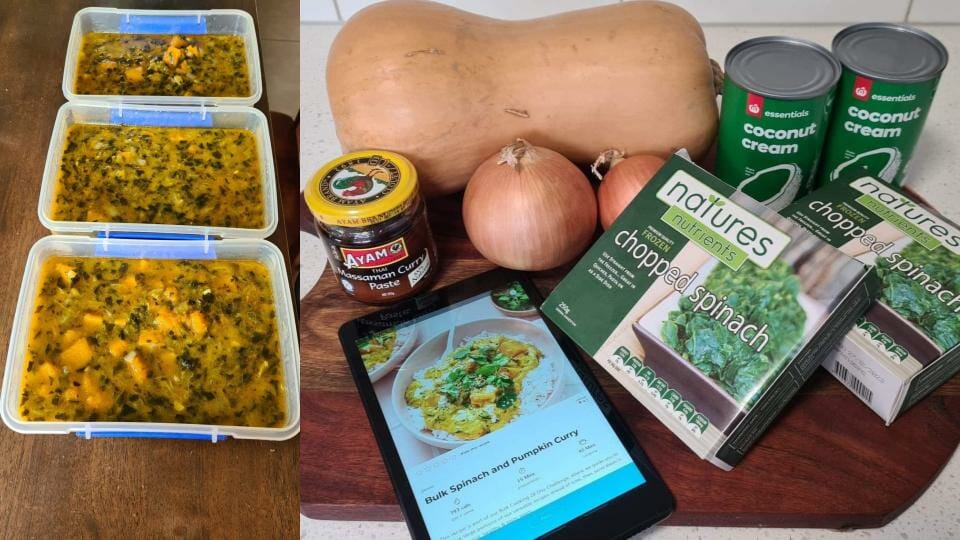 This made:
5 serves x Spinach and Pumpkin Curry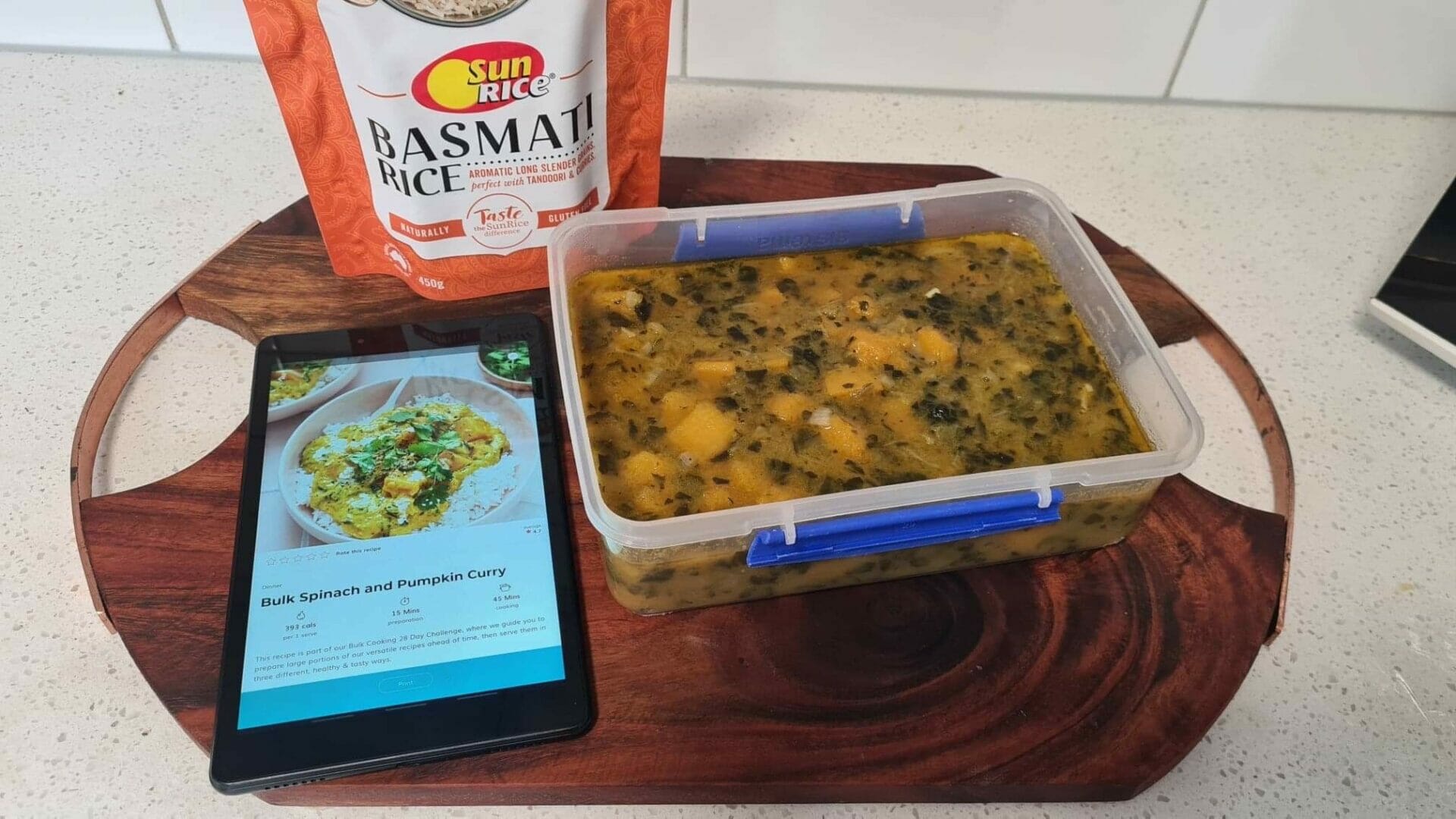 7  serves x Spinach and Pumpkin Curry Pie (2 pies each)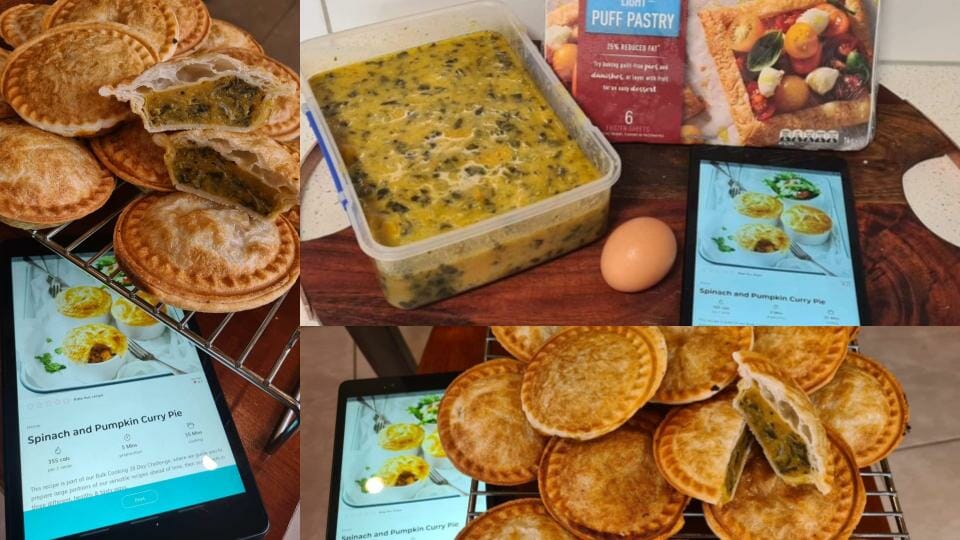 5 serves  x Spinach Pumpkin Chicken Curry soup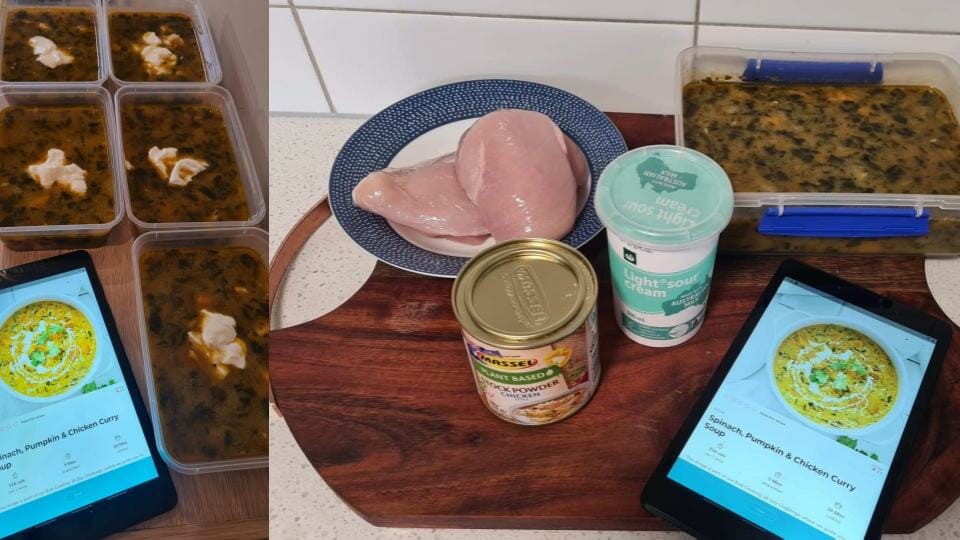 Get all these recipes as part of the 28 Day Weight Loss Challenge in the Healthy Mummy App
Money and Time Saved
Shelley was more than pleased with the results of her efforts in the kitchen knowing that it has saved her heaps of time for a busy week ahead.
She says 'Now that our meals for the entire week are sorted and just need to be reheated, I will have more time to engage and connect with my kids and partner, and maybe even get a little extra sleep!
Next time I do a big 3 Pot Meal Prep, I think I will prepare the night before – peeling, dicing, grating etc to save a little more time.'
Shelley's Top Tips for Meal Prepping 3 Pot Meal Plan
1. Start with the dish that takes the longest – in this case it was the Potato & Peanut Beef as it was 4 hours in the slow cooker. This will give you time to work your way through the other recipes while it's cooking.
2. I also find that freezing my soups rather than refrigerating makes it easier to transport them (to work, for example) without spillage, and I just reheat them in the microwave for a few minutes.
3. A pie maker is a fantastic way to make it a little quicker and easier, but you'll need to adjust your calories with the extra pastry.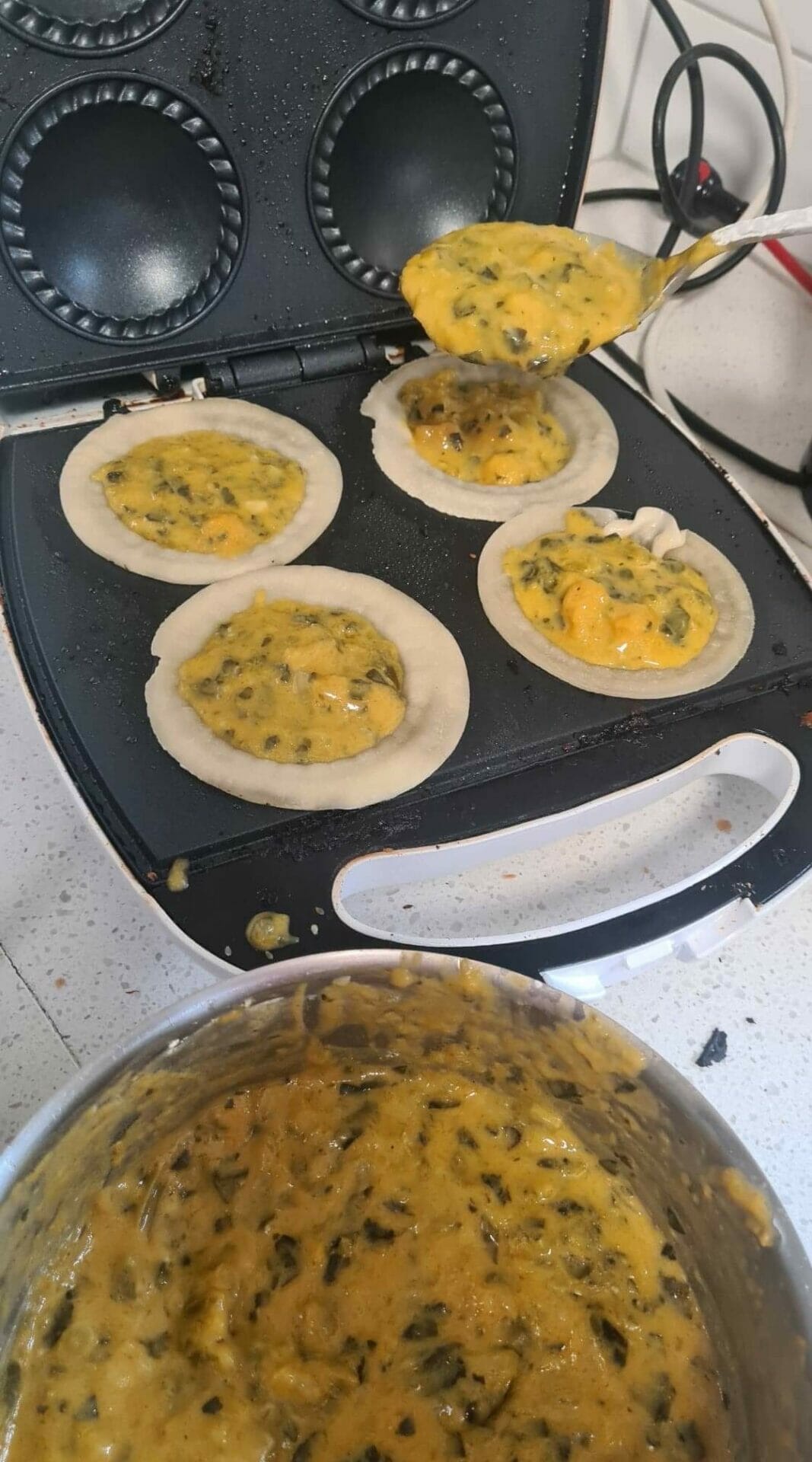 4. While I was cooking and prepping, I had the app open on two devices – my phone and my tablet, so I could refer to two recipes at a time. That way I was able to think about my next steps and keep the momentum going!
How Shelley Saves up to $100 Every Week with the Healthy Mummy!
When Shelley is not using the 3 Pot bulk recipes, she saves money by regularly checking what she already has in the fridge, freezer and pantry and then customises her meal plan accordingly.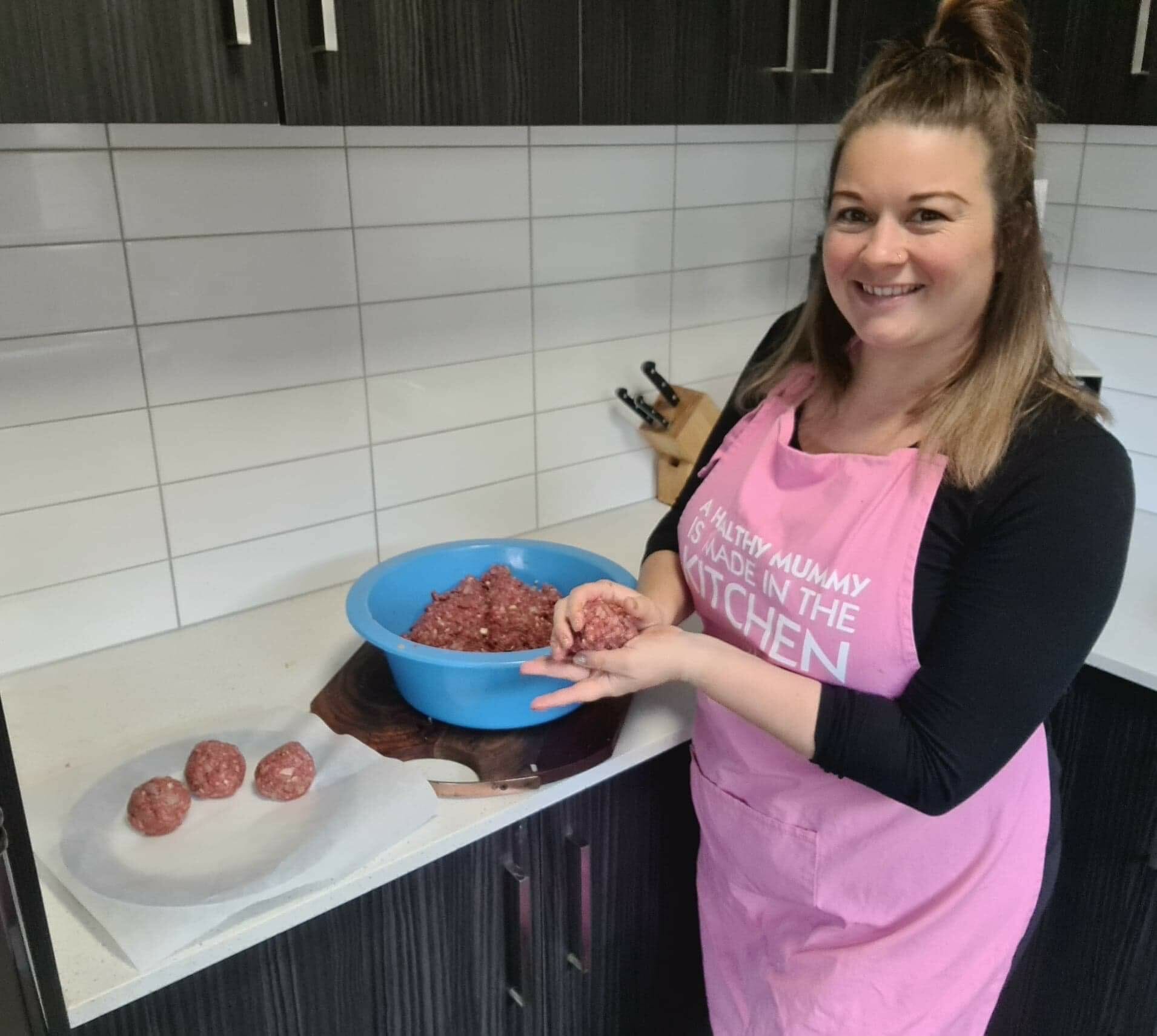 'The Healthy Mummy app is very helpful in that all I need to do is search for my chosen ingredient/s and it brings up a range of recipes which include them. For example if I have frozen mince, I will incorporate that into my meal plan rather than a different recipe requiring me to buy other ingredients.'
Shelley also substitutes one or more meals per week with vegetarian options that not only saves money, but also increases her family's veggie intake.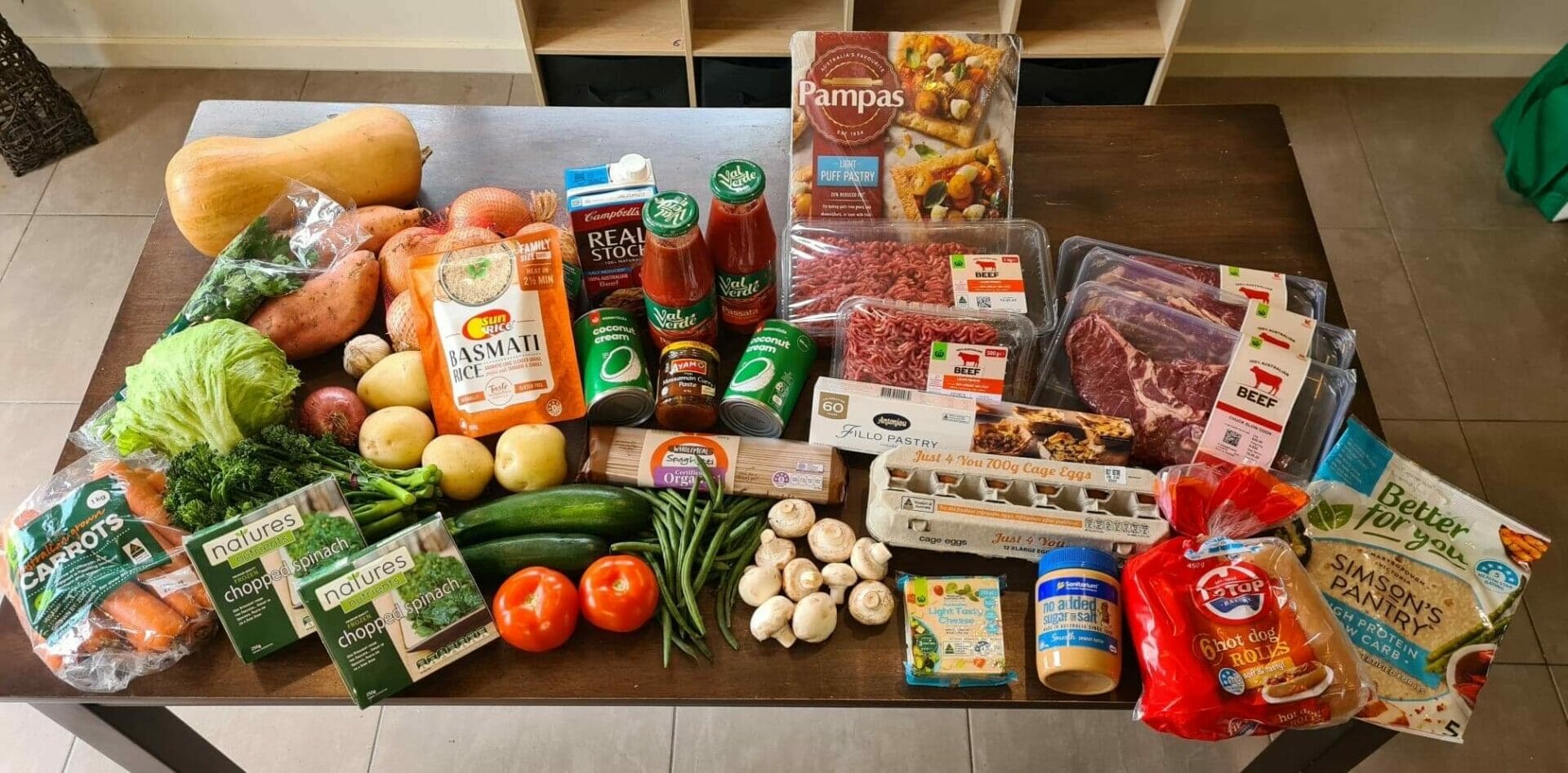 3 Ways Shelley Saves Money
'I am saving a lot of money by following the Healthy Mummy meal plans, mostly because the meals and snacks repeat a few times over the week.
'I am saving between $50 and $100 each weekly shop and that's not including the money I'm saving by not buying takeaway when I come home late from work too exhausted to cook (thanks to meal prep!).
'I am also saving money by incorporating Healthy Mummy smoothies into my day, either for breakfast or lunch. They are so packed with vitamins, minerals, probiotics and protein that I know I'm fuelling my body with exactly what it needs, but in a quick and convenient way.'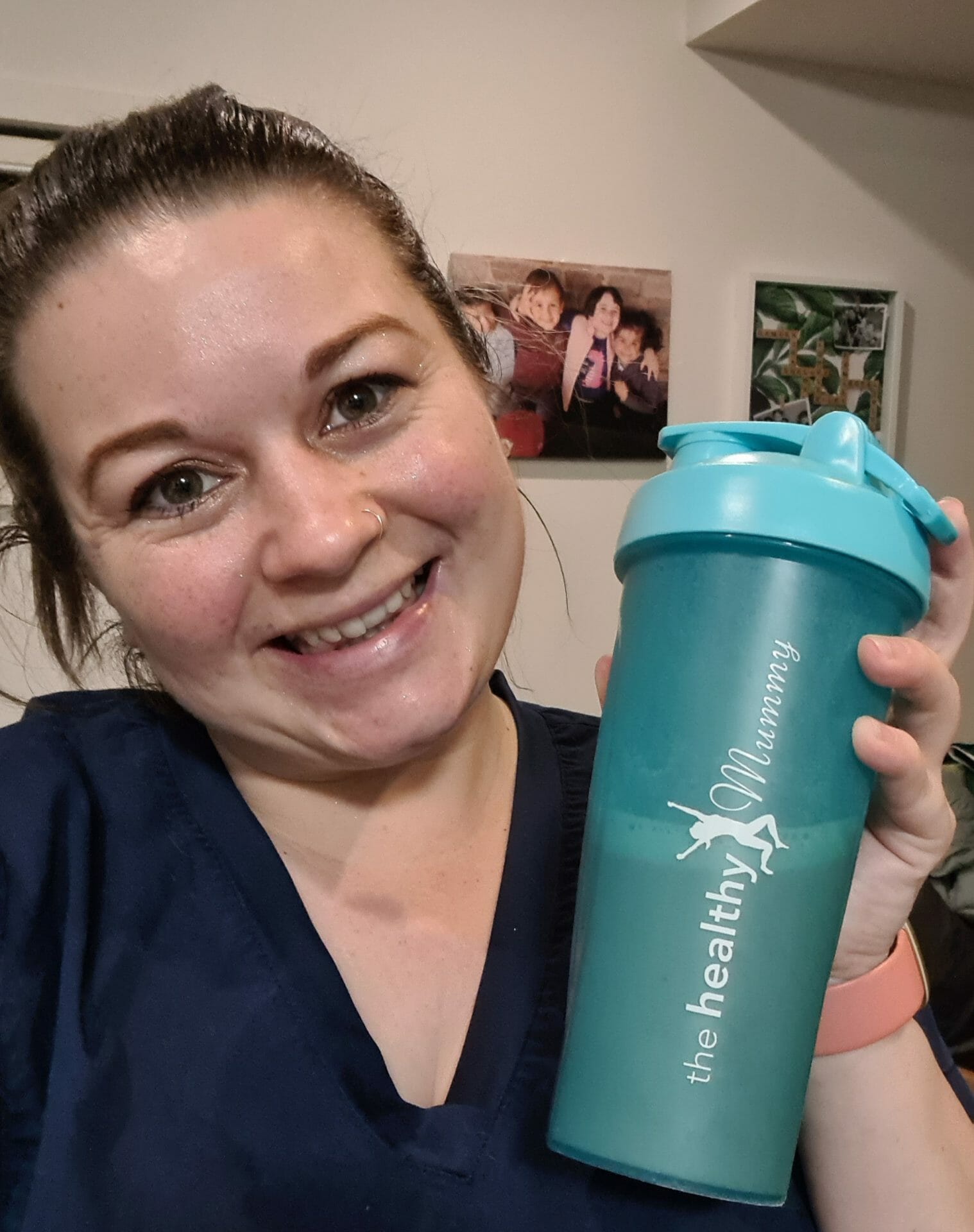 Shelley's Budget tips for meal prepping:
Buy veggies when they're on sale, chop and freeze them to use later.
Substitute the veg in recipes with veggies that are in season as they'll be cheaper.
Consider investing in a chest freezer, and buying meat on special to freeze for later. Buying meat in bulk then dividing and freezing.
The 3 Pot Meals are excellent for the budget because one base cook-up will provide 3 different meals.
Save money with 28 Day Weight Loss Challenge – and learn how to make healthy meals on a budget!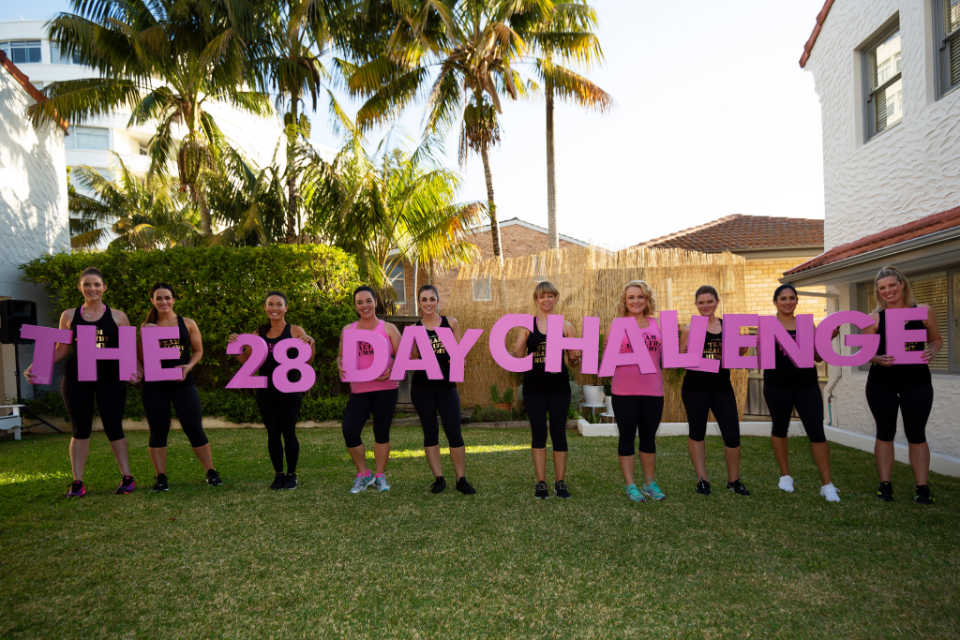 If you want to improve your overall health and wellbeing but don't have the budget for a gym membership or fancy pre-made healthy meals – our 28 Day Weight Loss Challenge is an awesome program to check out. 
Our 28 Day Weight Loss Challenge includes:
28 days of at home exercise routines (no gym needed) – with video instruction
Customisable and breastfeeding friendly meal plans
Time-efficient exercises for busy mums – under 30 mins
Challenge combines Pilates exercises with interval and circuit training (HIIT)
Suitable for basic to advanced fitness levels
Home to thousands of EASY-TO-MAKE recipes!
To learn more about our 28 DAY WEIGHT LOSS CHALLENGE CLICK HERE.
The Healthy Mummy App can help!
The new Healthy Mummy 28 Day Weight Loss Challenge App is an AWESOME tool for meal planning on a budget.
You can select the option to find 'budget friendly' meals in the recipe hub (as shown in the image below), and you can also filter the recipes you see to cater for dietary requirements, such as gluten free, nut free or vegetarian.