Summer Fridays ShadeDrops Sunscreen Review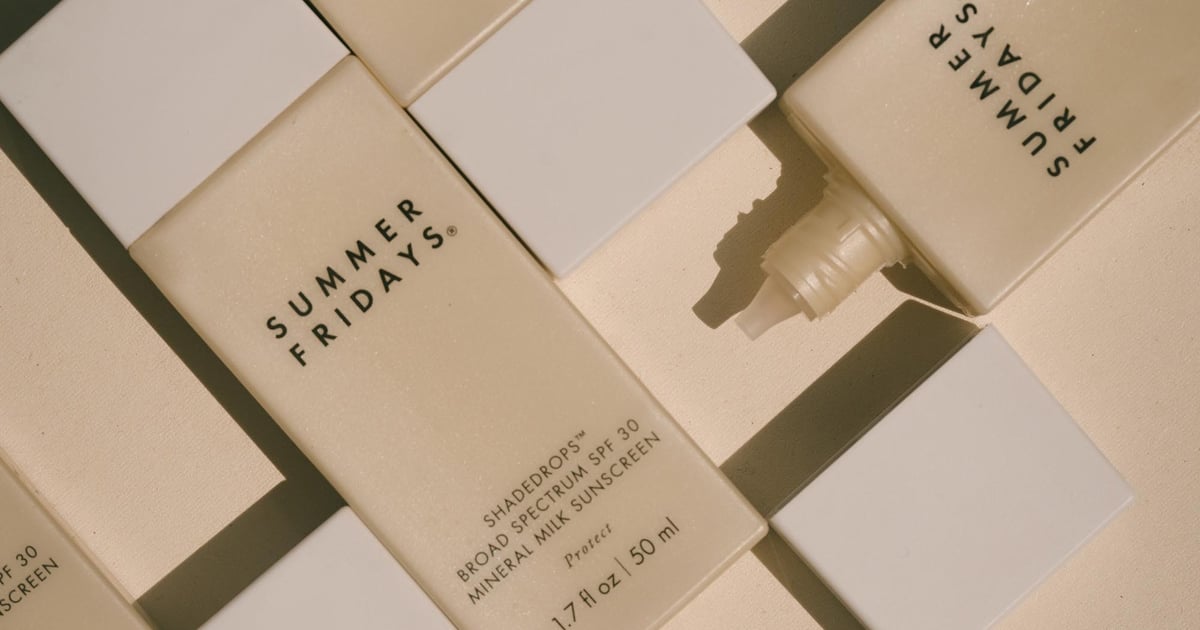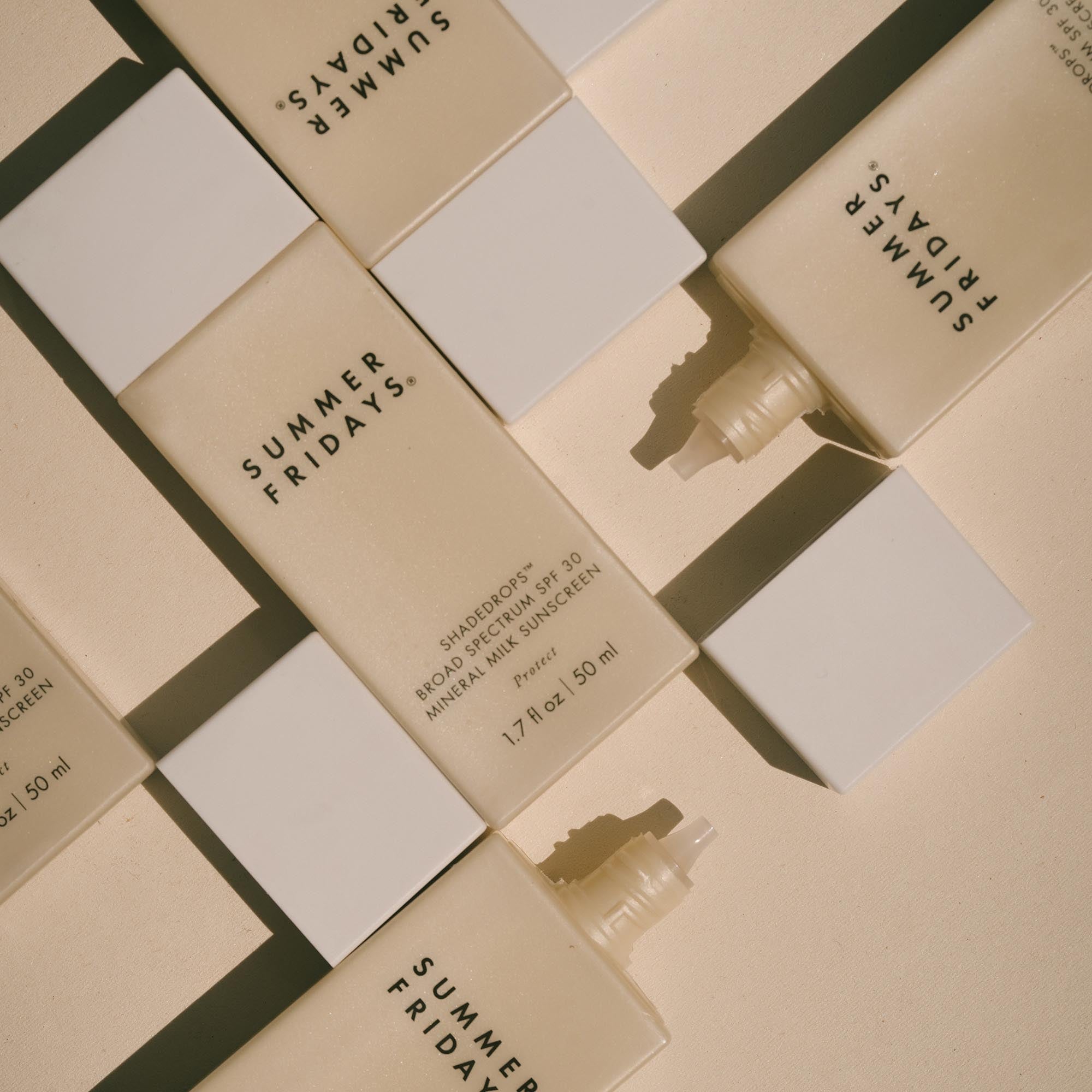 I have sensitive skin, so any time I try a new skin-care product, there's a "hold your breath and hope it doesn't make your face red or burn" period that generally lasts about two weeks. Additionally, because I have sensitive skin, my daily routine has become super simple: cleanse, vitamin C serum, moisturizer, and sunscreen. I'm a devoted sunscreen user; it's a product everyone needs in their routine, but as someone with very fair freckled skin who lives in California, sunscreen is essential. I generally prefer mineral sunscreen, and I like something lightweight and easy to use that doesn't feel like I have a film on my skin. I've been testing the Summer Fridays ShadeDrops Broad Spectrum SPF 30 Mineral Milk Sunscreen ($36), and it's a new essential for me.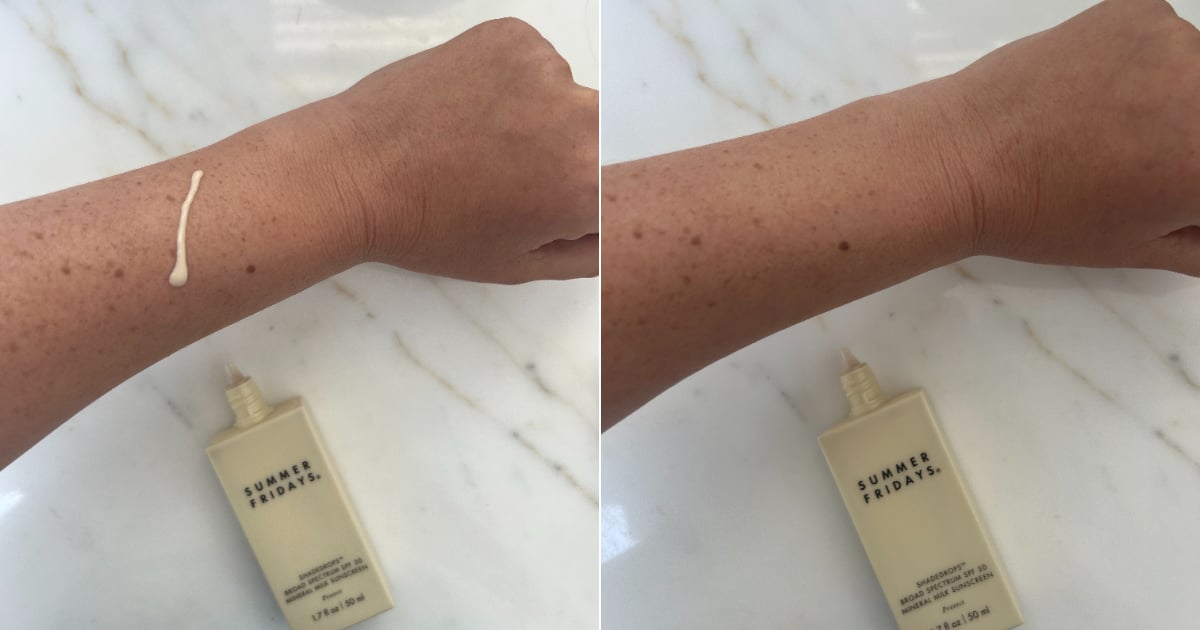 This is a mineral sunscreen that has the texture of a serum, meaning it is supremely lightweight and literally glides onto the skin. Previous mineral sunscreens I've used are generally thicker in consistency, and it's very evident to me that I'm wearing sunscreen, so to have a product that really feels like you have nothing on is a game changer. I've been using it for the last two weeks, and I've had no adverse reaction, which is pretty spectacular for me. It has a light sunscreen scent, but nothing overpowering or offensive, and is fragrance-free; this is just the natural scent of the product. It comes out sort of milky white but glides right onto the skin. It didn't leave a white cast on me or my brother, who I forced to try this product over the weekend so I could see it on a more medium skin tone (he approves too, by the way). It's worth noting that neither of us have dark skin, and since the product just launched today, I haven't seen it on many other people, so it's hard for me to say at this point if it will leave a white cast on dark skin.
To have a product that really feels like you have nothing on is a game changer.
I haven't found another product like this on the market, and it's already earned a spot in my summer beach bag. It's a high-quality mineral sunscreen that is comfortable and gives the skin a hydrated, glowy look that I want all summer long. It lies beautifully under makeup and was easy to reapply throughout a day at the beach, partly because it's formulated with skin-care ingredients like squalane, which hydrates and helps fight inflammation, and vitamin E, which acts as an antioxidant to help soften skin and protect its barrier. The vitamin E combined with ethyl ferulate creates an antioxidant complex that helps combat free radical damage, which is a great addition to a sunscreen. It is vegan and cruelty-free, comes in recyclable packaging, and is designated "Clean at Sephora." Plus, at $36, it's on the more affordable end of the spectrum. If you're someone who finds sunscreen annoying or sticky and hates to reapply (or even apply in the first place), this is the product for you. Summer is almost here, and this new sunscreen should go with you everywhere.
Image Source: Summer Fridays