SZA Left 2022 Met Gala Early Due to Anxiety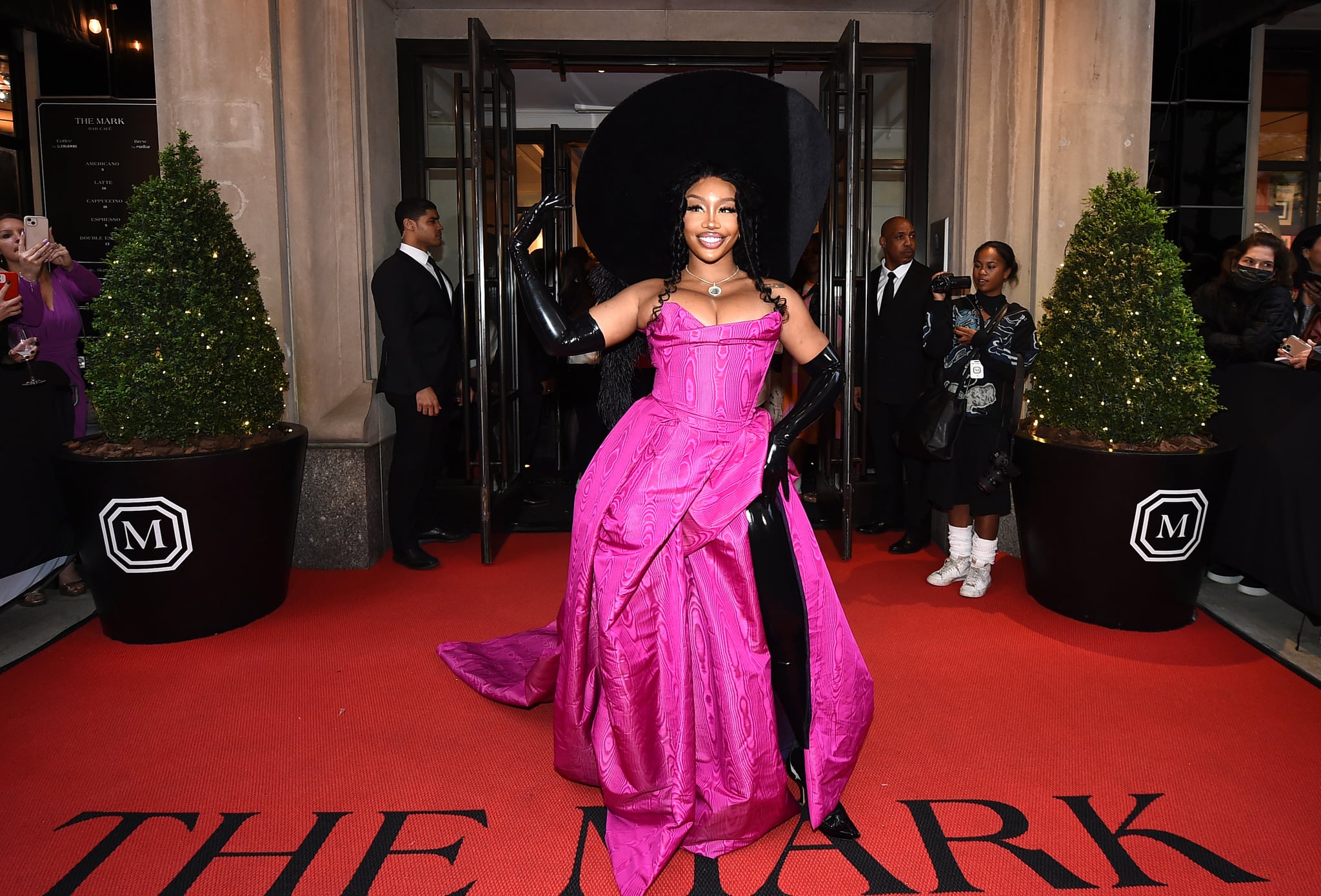 Image Source: Getty / Ilya S. Savenok
When it comes to mental health, you can never truly know what someone is going through just by looking at them. And even though someone like SZA may appear to have it all together, she recently opened up about her mental and emotional struggles after attending the 2022 Met Gala.
When she hit the red carpet in a magenta Vivienne Westwood gown, paired with black latex gloves and boots along with a large hat, the 32-year-old looked confident, sexy, and at ease. But in an interview for the Finish Line Women's Community Voices series for Mental Health Awareness Month, the singer revealed that underneath the glam, she was struggling with anxiety and self-esteem.
"I hated my outfit," SZA explains in the interview. "[I]t's like, you wanna do your job, you wanna show up, all these people are excited for you to be there. But it's like damn, I don't feel confident or I don't feel comfortable." She also mentioned she was struggling with comparing herself to others – a "really unhealthy" habit, she added. "It's like, damn, like some people like Lizzo can have a really good time regardless of what is happening."
Due to feelings of anxiety, SZA revealed she actually ended up leaving the Met Gala entirely. "I snuck out the back as soon as Lenny Kravitz hit the stage because I was feeling very [much] like, 'Whoa, my anxiety's going crazy,'" she explains, "so much so that I couldn't walk down the main steps to exit. I took a cab. I walked like three city blocks with no shoes on . . . and I caught a yellow cab back to my hotel because I was just overwhelmed and I had too much anxiety to wait for my cab in front of the crowd and take pictures and all those things. I didn't want to do that."
Being in the spotlight can be exhausting, SZA adds, explaining that "the physical exhaustion, the emotional exhaustion [do] not come from making music . . . the exhaustion really comes from expectations and berating and dehumanizing from outside forces. And that sh*t makes me feel like, why am I doing this? Why would I set myself up to be bodied like this on a regular basis?"
The singer also says she recently deleted her TikTok because she felt "overwhelmed" and exhausted from dealing with bullies and trolls. "It's weird sometimes, when your personal thoughts and feelings align with some of the things that people say about you," SZA says. "It's like, 'Damn, I think this about myself, I don't know if this person is so wrong?' . . . It's tough. It's hard not to fall into that weird hole of self-loathing."
When asked about how she destresses and grounds herself, SZA says she loves to get moving. She takes walks near her house, rides her bike, or goes to a park or the beach. "Physical activity and being outside and also prayer is really powerful for me personally," she says. As for continuing to speak out about mental health and her personal struggles, SZA says, "I'm just trying to keep growing and not be afraid to do it in front of millions of people, which makes it really nerve-racking . . . I'm just trying to be brave so that other people can maybe be brave [too]."
Let this be your reminder that there's no shame in stepping away to take a breather or leaving an event entirely – even if it's the Met Gala – to deal with your mental health.