The 12 Best SPFs To Protect Your Tattoos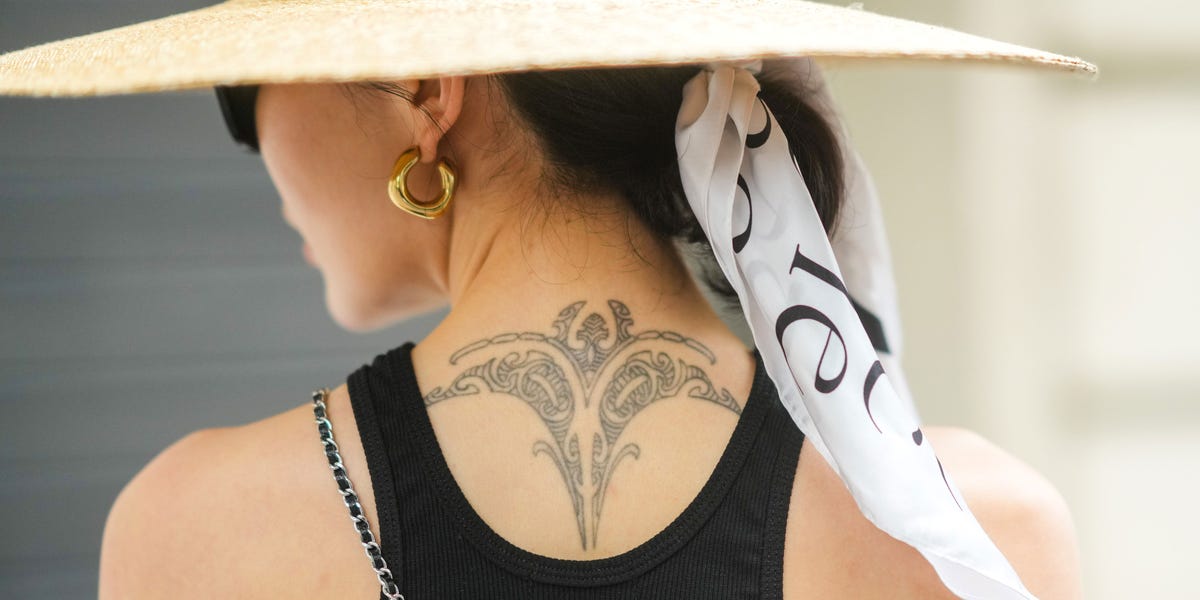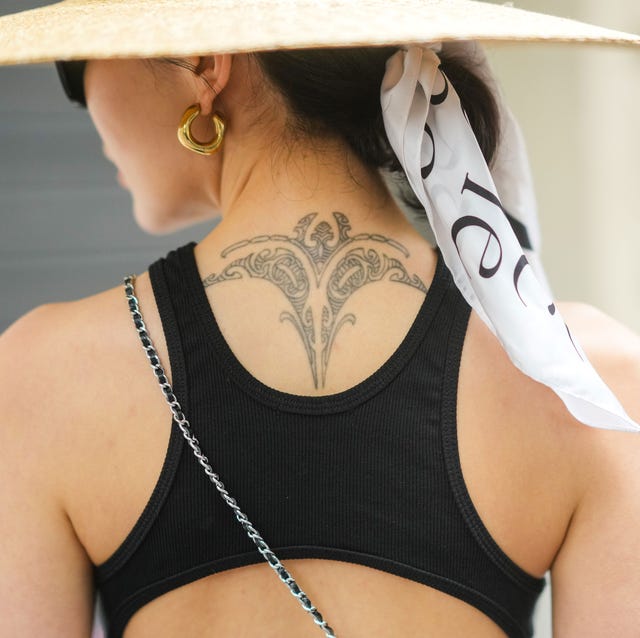 Edward BerthelotGetty Images
Tattoos are extra precious cargo. Whether the ink is brand new, 20 years old, black, white, or multi-colored, it's important to make sure you are protecting it, especially when going out in the sun. But what kind of sunscreens are suitable for tattoos, you ask? Well, it's actually a pretty simple answer. Board Certified Dermatologist Dr. Anar Mikailov recommends "The same SPFs for tattoos as I do for the rest of the body. The label should state broad-spectrum protection against both UVA and UVB rays and be at least SPF 50." While derms say any SPF will do for tattoos, formulas packed with antioxidants and hydrating ingredients are great for maintaining the integrity of your tattoo. Plus, finding one that doesn't leave a white cast on your ink is key. But don't worry, we've rounded up some of the best options. While you can opt for any kind of physical or chemical SPF, consistency is key, so find the one that fits your routine best. Whether a spray, lotion, or oil floats your boat this summer, we've got you covered on the 12 best SPFs to protect your ink while having some fun in the sun.
Advertisement – Continue Reading Below
1
Best For Preventing Fading
Defend Tattoo Sunscreen Broad Spectrum SPF 30
This SPF comes from the tattoo experts themselves at MadRabbit, a brand focused on creating products for inked skin. While the mineral sunscreen protects from UVA and UVB rays, antioxidants protect from environmental stressors and pollutants that can also lead to tattoo fading.
2
Best For Eczema-Prone Skin
PBS UV Shield Sunscreen
While this product is geared towards the face, it was developed with acne and eczema-prone skin in mind, making it perfect for anyone worried about skin sensitivity. If you tend to get rashes in the sun or experience irritation in general, opt for this soothing SPF.
3
Best For Skin Health
Oh My Bod! SPF 50 Body Sunscreen
May not be suited for oily skin
This sun protectant is completely invisible, leaving no white cast, which makes it perfect for all shades of ink. It's also packed with hyaluronic acid to keep your tattoo hydrated and healthy. The cucumber fruit extract and green tea extract help to further protect from environmental aggressors and boost skin health.
4
Best For A Glow
Glowscreen Body Sunscreen SPF 40 PA+++
If you're looking to enhance your tat with a bit of shimmer, try Supergoop's Glowscreen for body. The formula features light reflecting minerals to illuminate the skin and give a soft tan-glow-without the sunburn of course.
5
Best For Soothing Scents
Coconut & Pineapple Mineral Sunscreen
Transport yourself to an island oasis with this coconut and pineapple scented option. The product is formulated for scented skin and reviewers note it applies like a body lotion, rather than a thick, white sunscreen.
6
Best For Dry Skin
Hydro Boost Water Gel Lotion Sunscreen
When it comes to sun protection, Neutrogena might just be the expert, as the brand offers a plethora of options to choose from. However, their Hydro Boost formula is great for tattoos since it provides added moisture and dries clear. Plus, it's water resistant, so swim away!
7
Best For All-Over Hydration
Make it Hybrid Sunscreen Lotion
This sun protectant features lavender oil to soothe the skin and reduce redness, so it won't cause any irritation to tattoos. It's packed with other oils to hydrate the skin, leaving your ink glowy and nourished.
8
Best For Sensitive Skin
Mineral Sunscreen Broad Spectrum SPF
This SPF was technically developed for babies, so it's an extra gentle formula perfect for sensitive, tatted skin. Squalane protects the skin, adds hydration, and makes this sunscreen extra easy to rub in.
9
Best Spray-On SPF
Advanced Hydration Sunscreen Spray
Opt for Eucerin's spray SPF to protect from the sun's rays with ease. Spray the hyaluronic acid-based product all over and rub in for hydration and protection. If using on your face, spritz the product into your hands first and then apply. This product has a thicker consistency than most spray SPFs so it may require some additional massaging.
10
Best For Protection
Anthelios Melt-in Milk Sunscreen
Hydrate your skin with this melt-in milk sunscreen that will shield you from the sun without any residue. With a high SPF of 100, you will be able to care for your skin from head-to-toe. No sunburns here!
11
Best For Smoothing Skin
Collagen Glow 100% Mineral Sunscreen
Boost the appearance of your skin and tattoo with this collagen-infused formula. It will leave you looking plump and smooth, while blocking the sun's rays. Massage into your ink for invisible, oil-free protection.
12
Best For A Shine
Chardonnay Oil SPF 30 Sunscreen
Showcase your gorgeous ink after slathering on this lightweight oil. The formula will keep you hydrated, while also providing shine to make your tats glisten in the sun.
Dr. Elliot Love, Board Certified Dermatologist and Board Member for Mad Rabbit Tattoo
Dr. Anar Mikailov, MD FAAD, Board Certified Dermatologist and Founder of KP Away
Why should you apply SPF to your tattoo?
"Proper application of sunscreen will prevent burns and decrease the rate at which tattoos will fade, not to mention decrease the incidence of skin cancer" says Dr. Love. "Healed tattoos need the same amount of sunscreen as everywhere else on your body" says Dr. Mikailov. "The general rule of thumb is about ¼-â…" teaspoon for the face and neck, and an entire ounce (one shot glass) for the face, neck, and rest of your body."
Do brand new tattoos need SPF?
"You actually cannot apply SPF onto brand new, not-yet-fully-healed tattoos. The only thing that can go on new tattoos are healing balms like Vaseline or KP Away's Lipid Repair Emollient" explains Dr. Mikailov. "If you have a new tattoo and are out in the sun, cover it up with UPF (ultraviolet protection factor) clothing and hats." While you can't apply sunscreen to a new tattoo, it is important to ensure the area is protected from the sun to prevent burning.
What happens if you get a sunburn on a fresh tattoo?
"If it's a brand new tattoo that has not fully healed (< 4 weeks old), sunburns can prolong the healing time" says Dr. Mikailov. "If you develop a blistering sunburn at this stage, the tattoo lines can blur and the ink color may change hues." To maintain the integrity of your tattoo and ensure it heals properly, make sure to apply SPF as directed when going out in the sun. Dr. Love recommends applying "at least SPF 30 and reapply every hour and a half to two hours."
This content is created and maintained by a third party, and imported onto this page to help users provide their email addresses. You may be able to find more information about this and similar content at piano.io
Advertisement – Continue Reading Below