The 20 Best Pairs of Pants for an Effortlessly Stylish Return to the Office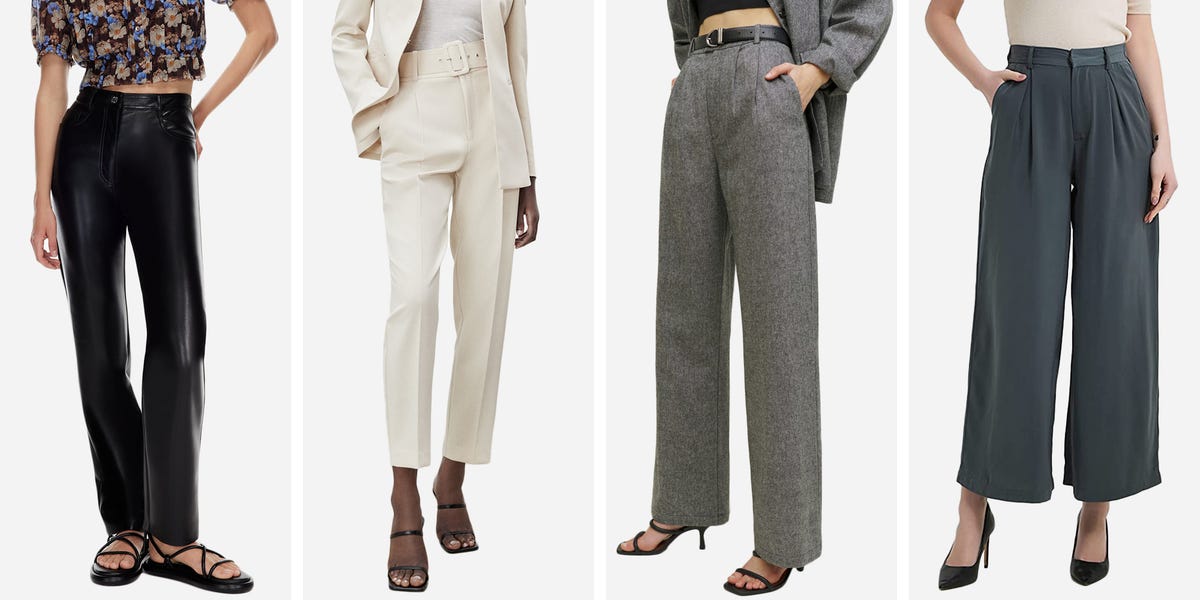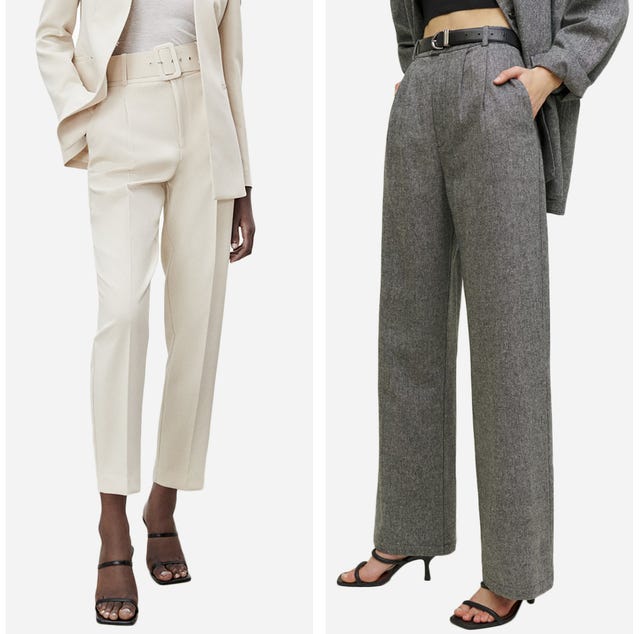 Courtesy
Remind me, how does that saying go? "Behind every successful woman is a…" Oh, that's right, behind every successful woman is: a great pair of pants. Workwear has never been easy to master, and it's even less so now that we've collectively taken a two-year hiatus from office attire. If you're revamping your wardrobe in preparation for the return to ye olde cubicle, you've come to the right place.
Pants are…pretty important. In the obvious ways, sure-show up without them and you'll quickly find yourself in need of a new job. Oops! But beyond that, the right pair of pants can have a major impact on the way you look and feel. Really good pairs can have a transformative effect. There's no stopping a woman wearing great pants. After all, did any other garment of clothing have a traveling sisterhood devoted to it? Methinks not.
When it comes to work pants, you want comfort, style, and versatility wrapped up in one item that simultaneously adheres to office dress codes. Fret not. Below, find 20 styles that do just that.
Advertisement – Continue Reading Below
BEST UTILITY PANTS
UO Exclusive High-Waisted Ankle Pant
Product photos simply don't do these do-it-all pants justice. Versatility, durability, and an unbelievably flattering fit have made these one of my personal go-tos for dressing up or down. I will rave about them forevermore.
BEST VEGAN LEATHER
The Melina Pant
If you're on Instagram, TikTok, or Pinterest, you've seen this viral pair of trousers. The vegan leather cut, which famously looks good on almost everyone, has generated a ton of buzz and is available in additional cropped, low-rise, and super high-rise styles, plus a myriad of color options, so you can find the pair that best suits you.
BEST FOR COMFORT
The Easy Pant
A pant that feels like your favorite sweats while qualifying as office-appropriate is a surefire winner. Bringing elastic waistbands to the boardroom never looked so good.
BEST HIGH-RISE
Montauk Pant
These polished slacks will make you look like the HBIC, even if you're the one making group coffee runs.
BEST PRINT
Super High Waisted Printed Wide Leg Pant
A sweet toile print looks good on any garment. Consider these an office-ready purchase that you'll be equally excited to sport to Sunday brunch.
BEST WIDE-LEG
High Waist Casual Wide Leg Long Palazzo Pants Trousers
I'll take my pant legs wide and my wage gap narrow, thank you very much.
BEST MATERNITY PANTS
Black Tailored Over Bump Maternity Cigarette Pants
Three cheers for all the working mamas out there. May your pants be comfortable, and your maternity leave lengthy.
BEST DETAILING
Adjustable Ankle Tie Trousers
Dressing for work can start to feel drab after a while. Small details like the bows on this pleated pair of wide-leg trousers help add subtle flair without turning you into the kooky office dresser.
BEST RELAXED FIT
Slouchy Boyfriend Chino Pant
You're a strong, independent woman who doesn't need a man. You do, however, need these menswear-inspired boyfriend pants.
BEST BOLD COLOR
Dylan High-Waisted Wide-Leg Pants
A pair of statement pants is the perfect way to inject a dose of personality into your workday attire.
BEST STRETCH
The Perfect Black Pant Back Seam Skinny Pants
"Leggings aren't work pants." Sorry, there's no room for that kind of negativity here. Say hello to these comfortable yet compressive pants from Spanx that will make you feel more than ready to take on that quarterly meeting.
BEST ON-TREND PANTS
Full Length Asymmetrical Waist Pants
Step into these trendy bottoms and claim your rightful place as the office fashionista.
BEST BELTED PANTS
Pants with Fabric-Covered Belt
Pair these with a matching blazer and heels for a power suit moment, or opt for a tucked in graphic tee and chunky sneakers for a more laidback look.
BEST BUDGET BUY
Vintage Solid Casual Pants Outdoor Slim Fit Pencil Trousers High Waist
Come for the affordability, stay for the ultra-flattering paper bag waist.
BEST STANDARD CUT
The Boss Trousers 2.0
Close your eyes and conjure the image of a pair of workwear pants, and you'll probably come up with something pretty darn close to this pair from Good American. Hey, don't mess with a classic.
BEST SLIM FIT
Slim Tailored Pants
Quality tailoring is one of the easiest ways to look put-together without requiring too much effort. The fit of these slim trousers give that made-for-me effect without a bespoke price tag.
BEST PLAID
Women's Casual High Waist Skinny Leggings Stretchy Work Pants
Give yourself a break from the monochromatic monotony with a fun print (even if that print is still neutral-toned).
BEST CORDS
Uptown Cord Pant Beige
Soft corduroy contrasted by a moto pant buckle makes for the coolest combination.
BEST CROP
Anderson Wide Leg Ankle Pants
Go on, show a little ankle in this powder blue pleated option.
BEST FLARE
Curve Flared Pants
Two trends I can't get enough of: checkered print and flared pants. Unsurprisingly, these two are better together.
This content is created and maintained by a third party, and imported onto this page to help users provide their email addresses. You may be able to find more information about this and similar content at piano.io
Advertisement – Continue Reading Below