The 22 Best Bras We Found for Bigger Busts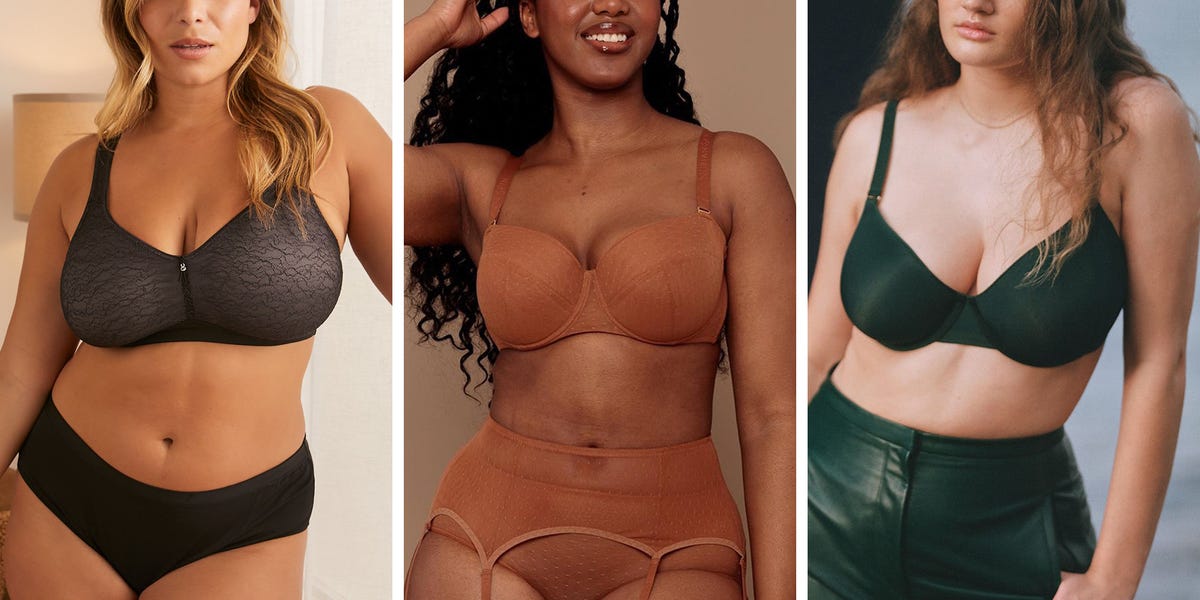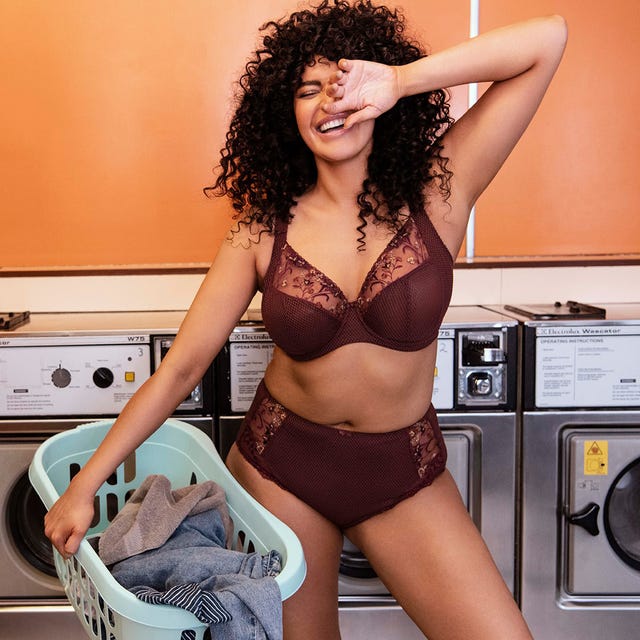 Courtesy
Shopping for bras can be exhausting, regardless of whether you're browsing in-store or online. It's hard to know where to start, what to look for, and even what your true size is. Frankly, there's something about the process that transports us back in time to uncomfortable mother-daughter outings. Cue flashbacks to being 13 and shedding a single tear, because mom, why is this so complicated?! That is precisely the kind of bra buying experience we want to help you avoid. To do so, we tapped two experts for their professional advice on how to find the right bra for you.
"For so long we've been taught to think our boobs were the problem, when all along it's really been bad bras" says Ra'el Cohen, co-founder and chief creative officer of ThirdLove. "Every person will have their own unique criteria for what makes a bra fantastic, but it ultimately comes down to looking and feeling your best." Preach.
"A customer with a larger chest should never have to choose function over style" adds Tracy Freno, senior manager of customer service at Bare Necessities. "Breast shapes and sizing can differ from woman to woman, so even among women who fall under the 'big bust' category, a certain style of bra might prove to be more comfortable and supportive to one woman's shape as opposed to another." With that in mind, Cohen and Freno both suggest being patient with yourself and the process and keeping your options-and mind-open. "What works best for someone will depend on their unique breast shape, size and needs…Take the time to consider which style fits you, your life, and your style the best" Cohen says.
Below are 22 of the best bras for big boobs in different styles for every occasion, even if that occasion is cozying up in bed or hunkering down for a Netflix binge. This list goes out to the bustier types (though we have other recommendations for small-chested folk, too). This is not an all-encompassing list, but we covered our bases with brands that cater to both full-busted (smaller band size with larger cup size) and full-figured (larger band and cup sizes) shoppers. May the bras be ever in your favor.
[product-summary-view][/product-summary-view]
Advertisement – Continue Reading Below
Best Front Closure Bra
Angie Front Close Minimizer Bra
Made with padded wide straps and a back panel of leotard mesh, this front-close bra comes in sizes ranging from a 32C to 44H. It's also a minimizer for button-up days or times you want the illusion of a slightly smaller chest.
Best Skin Tone Range
Naked Fuller-Bust Bra
True skin tone match
Wide size range
"Nude" looks different for everyone. Enter Nubian Skin, a line specializing in lingerie made to give women everywhere the option of true skin tone choices. This fuller-bust bra in particular is non-padded and underwired, constructed from 16 fabric panels that naturally lift you up and keep you supported.
Best Wireless Bra
Responsible Lace Wireless Bra
Comfortable
Sizes up to 52DDD
Wireless padding
Every bra wearer knows that nothing beats the comfort of a wireless bra. This padded wireless style offers the best of both worlds: The padded cushion contours to your boobs so it doesn't feel overly bulky, but the sleek material provides added comfort. Penningtons has a wide range of wireless bras, so if this padded one isn't for you, there are others to choose from with sizes ranging from 38B to 52DDD.
Best for Side Support
Brooklyn Leopard Lace Side Support Bra
Cup sizes up to L
Extra-thick band
Wires eventually may poke out
This bra, which comes in sizes ranging from a 34E to 46L, has a four-row hook closure and thick bands to support your sides and avoid spillage. Long-time users of this bra are a fan of its construction: "It provides full coverage and reliable support" says one reviewer.
Best Non-Padded Bra
Full Coverage Underwire Unlined Minimizer Lace Bra
Expanded size range
Sexy and stylish
With over 12k reviews and a four-star rating, this inexpensive option from Delimira supports you and looks good while doing it. "I am in love with this bra, I swear I've never known my actual bra size until I put this on. I've never had a bra fit me this well" says one reviewer. One ELLE writer personally bought this bra and instantly noted the subtle underwiring and breathability.
Best Racerback Bra
Moss Dylan Bra
Longline
Great for activewear
Many colors available
No padding, wiring, or cups
The ultimate size diverse brand (XXS-6XL), Girlfriend Collective is known for its leggings and two-piece sets in varying colors and styles. Additionally, it has a focus on sustainability, so you know exactly how much water, plastic, and CO2 went into the making of your item. The Dylan Bra has a high neckline and is made from recycled plastic bottles and spandex that stretches with minimal compressing.
Best Underwire Bra
Retro Chic Full Figure Underwire Bra
Pretty lace
Good fit and separation
Semi-sheer
More conical shaped cups
This retro-inspired bra, available in sizes 32D through 46H, keeps your boobs in place with a stylish lace design that doesn't sacrifice sex appeal. "I always feel confident that the fit of this bra, regardless of color, will be perfect; I was not disappointed!" one reviewer raved.
Best Minimizing Bra
Mystique Everyday Seamless Minimizer Bra
Minimizing
Seamless
Wide size range
The seamless design of this minimizing bra is the ultimate choice for full coverage and a molded look, with sizes ranging from 30A to 48G. The nylon and spandex band works with the polyester cup to minimize the chest size without compressing the body. Take it from this long-time wearer: "I've been wearing this bra for about two years now. It's probably the first bra that has provided uplift and support for my DDD size without hauling up the straps so tight they put grooves in my shoulders."
Best Nursing Bra
The Veronica Silky Lace Nursing Bra
Whether you're a new parent or a pro at nursing, this simple one-hand front clip bra will give you easy access. Available in sizes 34B to 44DDD, this wire-free bra is great for basic breastfeeding needs, and it's inexpensive, too. "I love the texture and fit of this bra" says one user. "So comfortable, easy to breastfeed, and no underwire to get in the way of the baby's latch."
Best Sports Bra
Full Figure No Bounce Back Close Sports Bra
Sizes up to 50L
Compressive enough for cardio
Trim might feel scratchy or uncomfortable
Exercising can be difficult with a larger chest, and not all sports bras work the same. Glamorise provides an easy solution with its extremely supportive and secure sports bras that come in sizes 34C to 50L. Its wire-free design has molded cups and features a mesh layer that wicks away sweat. One reviewer praised its epic gym use, saying, "I have 36 h breasts, and finding a bra is nearly impossible in person. It was surprising and awesome to be able to find a fairly comfortable bra that I can jump, run, and even do pushups in!"
Best Full-Coverage Bra
Alice Soft Cup Bra
Full coverage
Great for everyday wear
Well-made
Does not provide much separation
We're willing to bet this will become your most reliable bra. It gets the job done. Its full-coverage style, lace detailing, and boned side support make it a jack of all trades. One reviewer noted that it is "sturdy and beautiful-the best possible combination." For those of us who need an industrial-strength bra that's also pretty, this is it. Plus, it comes in sizes 34H through 48J.
Best Satin Bra
Cate Full Figure Soft Cup Bra
Pretty
Soft to the touch
Flattering
Might dig into your sides
Elomi did not come to play with this supportive satin bra. Truly working in favor of those with larger boobs, this bra comes in sizes ranging from 36E to 48G. Oh, and the intricate details and flattering colors add some serious sexiness.
Best Breathable Fabric
The Demi
Innovative material offers sleek support
Comfortable
Hate the added bulk of padding but love the support? Let Cuup introduce you to 3D space fabric, a non-creasing, breathable material that's molded into cups. The result: a flawless fit that marries supportive shaping with a barely-there feel.
Best Demi Bra
Cotton Unlined Demi Bra
Comfortable for all-day wear
The golden standard is a simple bra that you can wear under almost any outfit. This one is a customer favorite from Cacique. "This bra is perfect for shallow breasts" writes one reviewer. "It is a great bra for [wearing] around the house and going for walks."
Best Sexy Bra
24/7® Perfect Coverage Bra
Looks great on
Sexy while offering moderate coverage
The balconette is one of sleekest styles to wrap one's chest in, and this one from ThirdLove is a prime example. Sizes range from a 32B to a 42DD, with many reviewers raving about the cuteness of the style and the comfortability of the fit for large chests. "Hard to find a pretty bra for D cup and bigger!" says a reviewer. "Love this one. Makes me feel sexy!"
Best Plunge Bra
Gabi Fresh Ericka Plunge Bra
Hot, hot, hot style
Matching set
Playful Promises knows how to do seductive styles, and after they collaborated with influencer Gabi Fresh, you know your girls are in for a good time. This plunge bra (available in sizes 36B to 44K) keeps your look sultry while providing ample support. And yeah, there are matching briefs.
Best Underwire Sports Bra
Full Support Sports Bra
Padded straps
Breathable, moisture-wicking fabric
With over 15,000 reviews, let this underwire sports bra carry you from workday to workout. One reviewer confirms, "The cups are actually big enough and over all, it's more supportive than anything else I have." Beyond cups that lift and separate, the high-performance material keeps you cool and dry and the straps are padded to relieve any shoulder pressure.
Best T-Shirt Bra
Microfiber Lightly Lined T-Shirt Bra
Runs small
Stiff at first
A good T-shirt bra can be hard to find, but this one from Torrid makes it easier with inclusive sizes ranging from a 36DD to 50H. The comfort does not disappoint with underwire support, either. One reviewer states, "This is one of the MOST comfortable styles I have ever worn. Lightweight, yet supportive, not binding or pinchy, straps are nice."
Best Shaping Bra
Keira Satin Side Support Bra
Great separation
Beautiful color options
Opt for a pop of color-just for yourself. As one reviewer puts it, "This is such a comfortable, well-made bra, and the fact that it comes in so many delicious colors makes it even better. No one sees it but me these days, but it makes me feel so pampered and beautiful." Beyond the array of colors and sizes the satin option offers, this bra is constructed with non-stretch, five-part cups, and a higher center gore to ensure your boobs are separated and look great.
Best Push-Up Bra
Tulip Lace Balconette Bra
If you're looking for a little lift, this push-up bra does the job well. Many reviewers recommend sizing up on this style, but are very happy with the results. Take it from this one wearer: "I purchased it and was so blown away, I ended up buying it in every color they make." It is available in sizes 34DDD to 46DD, FYI.
Best Bustier Top
Elissa Underwire Strapless Bustier Bra
On-trend style
Added boning provides extra support
Strapless construction might slip down
This one is for the Bridgerton fans who are as obsessed with the sultry costumes as they were with Regé-Jean Page. This romantic strapless bustier, available in sizes 32D to 44G, is the lingerie of our most whimsical dreams.
Best Molded Cups
Kinetic Impact Sports Bra
Full coverage
Medium to high impact
Adjustable straps
Hook-and-eye closure
This is one of Cohen's top recommendations. Most sports bras are ultra compressive or feature molded cups-very few are able to do both simultaneously, but this wireless one does so with ease.
FREQUENTLY ASKED QUESTIONS
If I have a big chest, what should I look for in a bra?
Freno says it's important to look for a fitted and secure band, first and foremost. "The snug band is going to create a 'shelf' to offer that support" she says. "If the band is too loose, [your] breasts will sag and pull the bra down in the front. This causes the back of the bra to 'ride up' and the straps to dig into the shoulders."
"Features that stand out in a bra for larger breasts include fuller coverage cups that are comfortable and supportive, a wide band with a smoothing silhouette, and straps that stay put but never dig in" Cohen adds.
What types of styles should I avoid?
If your breasts are close-set, Freno advises you to avoid bras that have a tall center gore, which is the section in between the cups. "Ideally, this part should lie flat against the sternum" she says. "If there is not much separation between breasts, there may not be enough room for the gore to settle in between. In this case, a plunge style bra would be perfect. The shorter center gore takes up less space and will ensure the garment will fit more comfortably." Don't worry about spilling out of a plunge style. Freno says that's only a risk if the cup size is too small.
"The things larger-chested shoppers should avoid in a bra are things every shopper should avoid, like thin, flimsy straps that are either too tight that they dig in, or too loose that they fall off the shoulder. Also, exposed elastic bands can rub and cause discomfort, scratchy tags and labels, and bulky cups that weigh you down" per Cohen.
How can I measure myself and find the right size?
"Just like jeans shopping, it is important to keep in mind that, regardless of the size on the inside tag, there may be styles and brands that feel better on you than others" Freno says. "It is a trial-and-error process that differs from person to person."
According to Freno: "Before taking measurements, you will want to be wearing a bra and also have a soft measuring tape handy. The breast tissue will need to be lifted but not compressed, so please be sure to steer clear of sports bras and minimizers for this…To begin, start by taking your band measurement which should be snug around your ribcage in inches, directly under your bust and level all around…The next measurement will be your bust. This will be taken at the fullest part of your breast tissue which is usually along the nipple line. Make sure the tape is even all the way around. This measurement should be snug, but not tight. Please be sure not to squish down your breast tissue…Consider your body type as well. Are you petite, average, curvy? There are different types of bra styles out there that will be better suited for certain breast shapes and body sizes over others. The cut, coverage, and fabrication of a bra style all impact how the bra will fit depending on these factors…Knowing your body and paying attention to which styles flatter your figure best is key."
Additionally, Cohen has some further advice for finding your perfect fit. "Look for issues with your current fit" she says. "Identifying common problems, like gaping cups and slipping straps, can determine which size bra you should actually be wearing and whether you need to go up or down a size (or a half cup size). Then, identify your breast shape.
How do I know what shape my boobs are?
Cohen broke down five different shapes of breasts for us: athletic, bell, relaxed, East West, and round. Here's how she evaluates each.
Athletic Boobs: Wider boobs with more muscle and less tissue tend to have a problem with cup gaping. Due to this, we recommend T-shirt-style bras.
Bell Boobs: These boobs are slimmer at the top, and fuller at the bottom. This normally characterizes someone as a larger cup size, and they may experience overflow with minimal coverage styles like a balconette or demi. Instead, try a full-coverage bra that features wider, memory foam straps that provide support, but never dig in.
Relaxed Boobs: These are boobs that have lax tissue and nipples pointing downward. Since these tend to be longer breasts that hang, try a balconette style that has a slightly shorter cup for more fullness at the top.
East West: The boobs that don't get along. These are the ones, just as the name suggests, with nipples that point to the east and west, creating wide-set breasts. If you are struggling to achieve cleavage with certain tops, look for full coverage bras that will help bring your breasts up and together.
Round: While most styles may work for your shape, try a wireless bra for days when you want light support, or a balconette style when you want an ultra-flattering fit.
What is "sister sizing"?
"Sister sizing is a technique where the band size and cup size are altered to determine an alternate size" Freno says. "For example, if someone measures 32DD but the 32-inch band of their bra feels too tight, while the DD cup feels just right, you could try the sister size, 34D, to achieve a looser-fitting band, but the same size cup. Finding the correct bra fit is so much more than measurements. Try not to focus too much on the bra size and pay attention to the fit and support that you receive. That is what matters most!"
This content is created and maintained by a third party, and imported onto this page to help users provide their email addresses. You may be able to find more information about this and similar content at piano.io
Advertisement – Continue Reading Below