Tom Daley's Coming Up For Air Book Review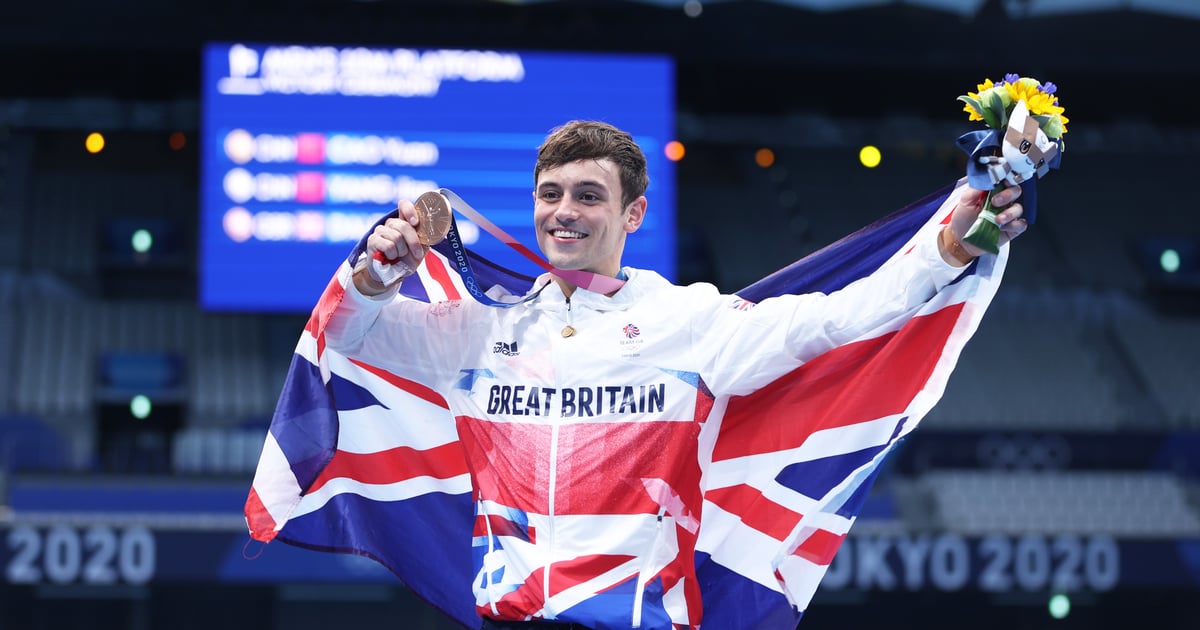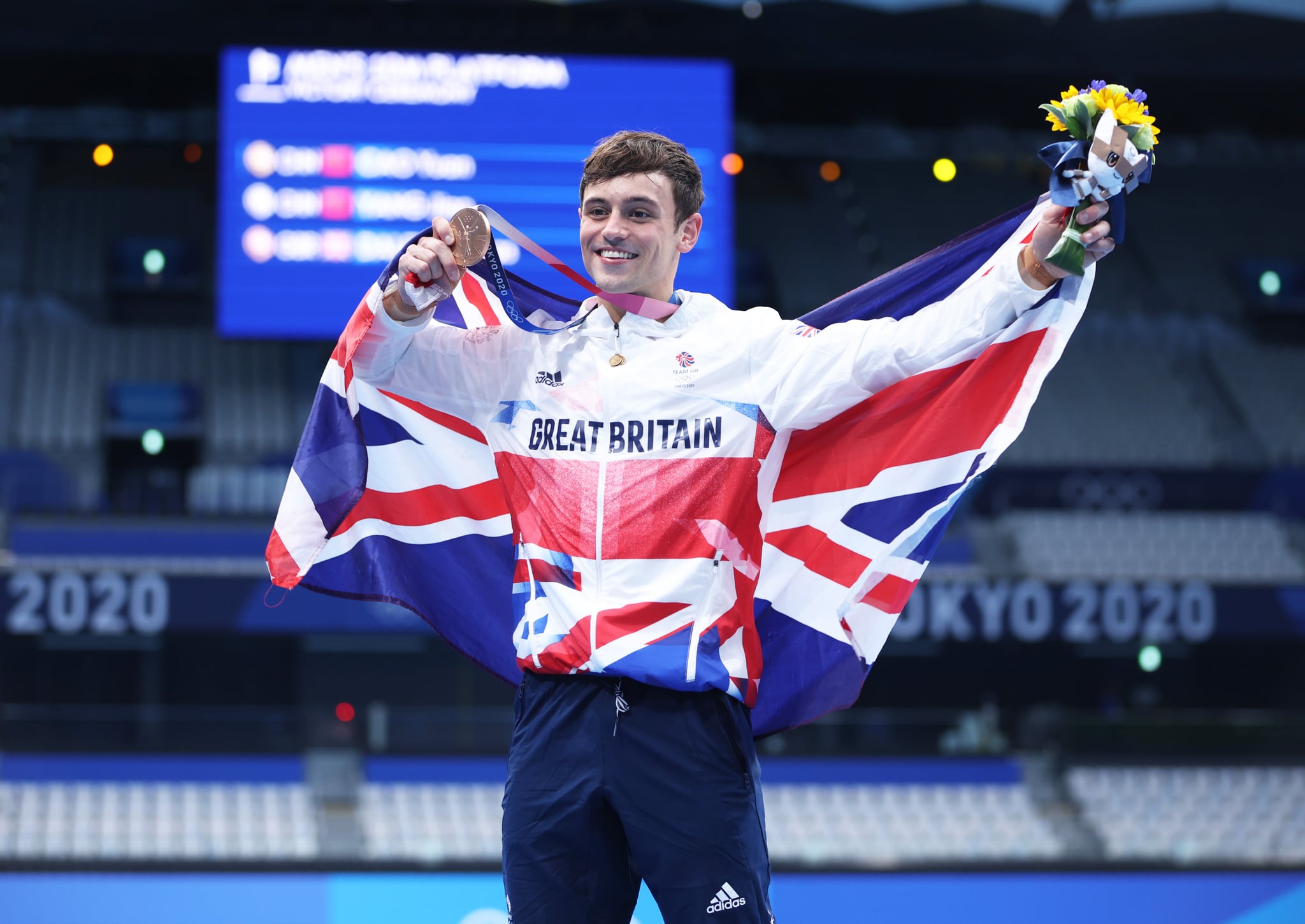 Tom Daley was standing on top of the diving platform in Tokyo when it hit him, in his words, how "bloody cool" it was to be there. The British diver was competing in his fourth Olympics, one that had presented even more challenges than most: set during a pandemic, after a year of interrupted training, lacking fans and the on-site support of his family. And yet, even though they weren't there physically, it was his family who Daley was thinking of.
"I have a son, I have a husband, and I feel content with where my life's at," Daley remembers thinking while he was standing on the platform, waiting to dive. And it was that contentment, he says, that "allowed me to be able to dive the way that I've always wanted to." At the 2020 Olympics (held in 2021), Daley fulfilled a lifelong dream of winning his first Olympic gold medal in the men's synchronized 10-meter platform event. By the time the Olympics were over, Daley would add a bronze in the individual event to make him the first British diver to win four Olympic medals.
In "Coming Up For Air" ($12 and up), Daley's bestselling memoir released in the US this week, the 27-year-old diver details what it took to get to that moment of complete personal fulfillment, which he describes to POPSUGAR as "the first time that I felt truly content and at peace with everything that I've achieved in my life."
The ride wasn't always a smooth one, especially when it came to Daley's mental health. The memoir opens during the 2012 Olympics in London, where Daley won a bronze medal and became a household name. But behind the scenes, the then-18-year-old was suffering from enormous pressure and stress. After the Olympics, he dealt with PTSD caused by a terrifying moment when he'd gotten "lost" in the air during a twisting dive in the Olympic final. That led to a case of the "twisties," a mental block that causes an athlete to lose track of their body in the air while attempting to perform a twisting move. "It is very common in sports like gymnastics and diving," Daley explains. Simone Biles famously experienced the twisties during the 2020 Olympics.
As Daley fought to figure out the dive (which he'd eventually end up scrapping in favor of a twisting dive that didn't trigger his block), he was also dealing with "a complete Olympic blues": the post-Olympics depression that many athletes experience. "I didn't know where I was going. I didn't know the purpose of my life. I didn't know what was next," he remembers.
Daley would go on to compete in two more Olympics (he says he's still undecided on the 2024 Games) and undertake a journey of personal discovery that included coming to terms with the death of his father; coming out publicly; falling for and marrying Oscar-winning screenwriter Dustin Lance Black, whom Daley calls his soulmate; and welcoming his and Black's son, Robbie. "Coming Up For Air" organizes the journey into chapters with titles like "Perseverance," "Courage," and "Acceptance" – qualities that Daley has developed throughout his life and career.
"I used to define myself solely on how well I did in the pool and how well I was diving when life is about so much more than that."
"Perspective" got its own chapter, but even more than that, it was a theme that ran throughout the book. As he matured, Daley found that the fuller his life was outside of diving, the better he performed on the platform and the happier he felt all around. Athletes, he explains, are often tempted to prioritize their sport above everything in the pursuit of success: "No rest, no distractions, no nothing," Daley says. But Daley learned that having a sense of perspective on his sport – and realizing that it wasn't the only thing that defined him – was what cleared the way for his success in Tokyo and his current quality of mental health. "If you eat, sleep, breathe diving, it becomes so overwhelming," Daley says. "You put so much pressure onto wanting to make it work." Becoming a parent marked the first time that Daley truly achieved a work-life balance. "I was able to come home from diving and not be thinking about diving . . . because I had to change nappies," he says. "It wasn't that [diving] took a backseat or was any less important. It was just that my son took precedence over everything. . . . There were two extremely important things in my life."
In Tokyo, where he wasn't able to see his family and outside distractions were kept to a minimum due to COVID protocols, Daley famously used knitting to take his mind off of diving. In the book, he describes picking up the skill during COVID-19 lockdowns and falling in love with its soothing repetitiveness. "It's just something that you can focus on . . . where you can't be thinking about other things," he explains. "So if you are able just to literally focus and hone in on one thing, just for a moment, it allows you to, like, really reset things." He compares it to breathwork and meditation, which he also relies on for grounding and centering himself.
And speaking of breathing and perspective, there's the title of the memoir. "Coming Up For Air" is something Daley does after every dive – it "has that water connotation," he says. "After every single dive, you then have to come up for air and evaluate how that dive went." Writing this book felt similar, Daley says, like "finally taking a breath and looking back on what I've done [in life]."
Daley isn't exactly sure what his next act holds: maybe another Olympics, maybe a career in media or fashion. While he reflects on his past and mulls over the future, his book is an insightful look at what it takes to ascend to the top of his sport while building a full and enriching life outside of it. "I used to define myself solely on how well I did in the pool and how well I was diving," Daley sums it up, "when life is about so much more than that."