Tracee Ellis Ross 2022 Oscars Red Carpet Hairstyle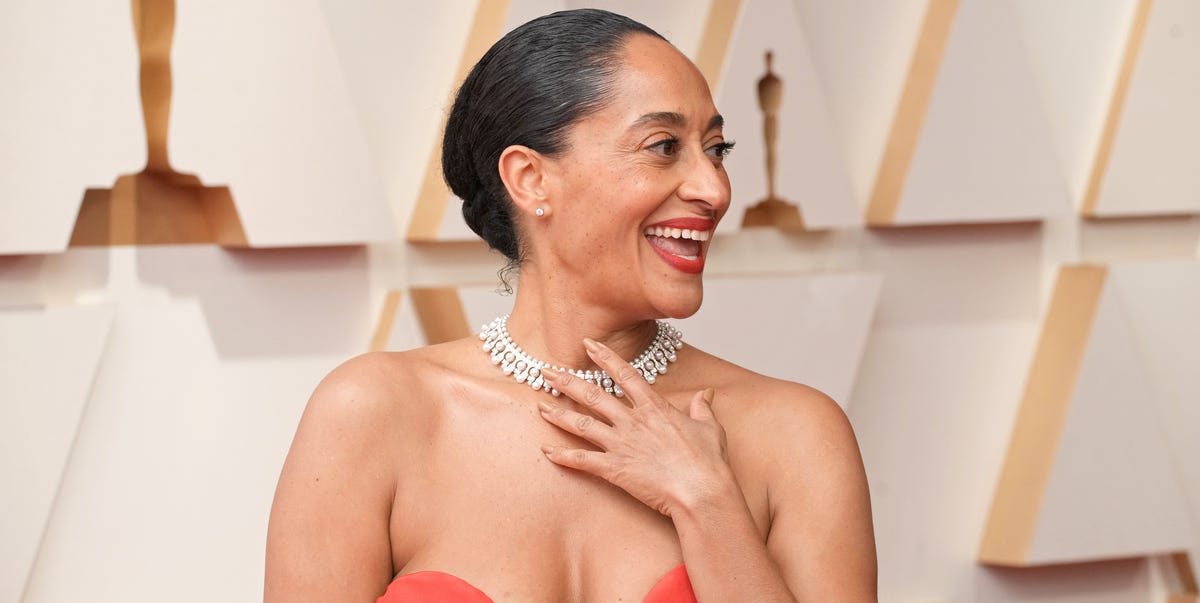 Tracee Ellis Ross is the epitome of classic style. She has followed in the footsteps of her trendsetting mother, Diana Ross, and become one to watch on the red carpet for epic beauty and hair looks. Whether she's donning ultra-long cornrows or wearing her natural curls fully out (her "favorite style," she reveals), Ross can be counted on for Hollywood glam. She arrived to the 94th Annual Academy Awards and gave the red carpet a classic beauty look with an architectural twist. To accompany her signature red lip, she went for a sleek hairstyle. Ross and her hairstylist Marcia Hamilton spoke exclusively with ELLE for more details on her 2022 Oscars look.
Marcia Hamilton doesn't only help Ross get her hair red carpet; she also worked with her on the set of Black-ish as her hairstylist. "I will absolutely miss the creative process and the amazing team at Black-ish,"states Hamilton. However, she and Ross brought that creativity right to the Oscars by updating an old Hollywood silhouette with an architectural twist. Ross' low bun was inspired by legendary Hollywood actresses. "It's Grace Kelly, Sophia Loren and Josephine Premice with a Tracee/Marcia twist," Ross reveals. She further explains, "We wanted snatched back elegance with a smooth texture." Mission accomplished. We want snatched back elegance, too! Hamilton happily gave us all the details on how to get the look using Ross' Pattern products in six easy steps:
Create a part at the top center of the head make sure the placement of the part starts and ends behind the ears.
Spray back section with Pattern Hydrating Mist, then work in a quarter size amount of Pattern Leave-In Conditioner smoothing and brushing hair into a low ponytail. Secure with a Pattern ponytail holder.
Twist the ponytail into a bun then secure with Pattern hair pins.
Apply Pattern Styling Cream to the top section, then carefully, smooth and brush the hair backwards.
Smooth and gather hair over the bun, hold firmly then apply a Pattern ponytail holder. Twist the ponytail to the end, then turn the twisted end up and tuck into the hollow space above the bun.
Hold and pinch the tucked section onto the bun then secure with Pattern hair pins. Firmly anchoring the top section to the low bun. Finish top section with a light glaze of Pattern Strong Hold Gel.
This hairstyle exudes modern elegance and will look good on almost anyone. It's easy enough to DIY so no hairstylist is needed. Try it for your next night out on the town when you need a haute hairstyle that will simultaneously keep you cool (both literally and figuratively).
This content is created and maintained by a third party, and imported onto this page to help users provide their email addresses. You may be able to find more information about this and similar content at piano.io